Hidden away within the labyrinth of narrow streets in Barcelona´s historic barrio Sant Pere, The Perfumery Barcelona is a niche-boutique which proposes avant-garde fragrances in an enchanting yet contemporary atelier. Offering the perfect blend of sensual stimulation, this olfactory oratory offers both sought after and self-blended scents. With more of an educational focus on the intriguing connection between the physics of perfume and the science of scent, their eclectic range of fragrances are laid out in ceremonial and almost sacramental form, which offers a truly sensory experience at all levels. This allows you to develop more of a personal relationship with the aromas. Since its inauguration in 1999, proprietors Thomas Dennis and Raul Falcon Espada have always sought to work with premium, original essences.
Part of the fascination of this boutique is its collection of perfumes which have been inspired by various historical and fictional characters. From creations concocted by the Napoleon family back in 1795 to the favourite spritz of Jacqueline Kennedy Onassis, The Perfumery Barcelona has all the top trends to captivate a curious clientele. Adding to the experience are charming team of assistants who love to tell ´aromatic anecdotes´ to visitors about their diverse range of scents – as well as being able to determine which fragrance to offer a customer at first sight.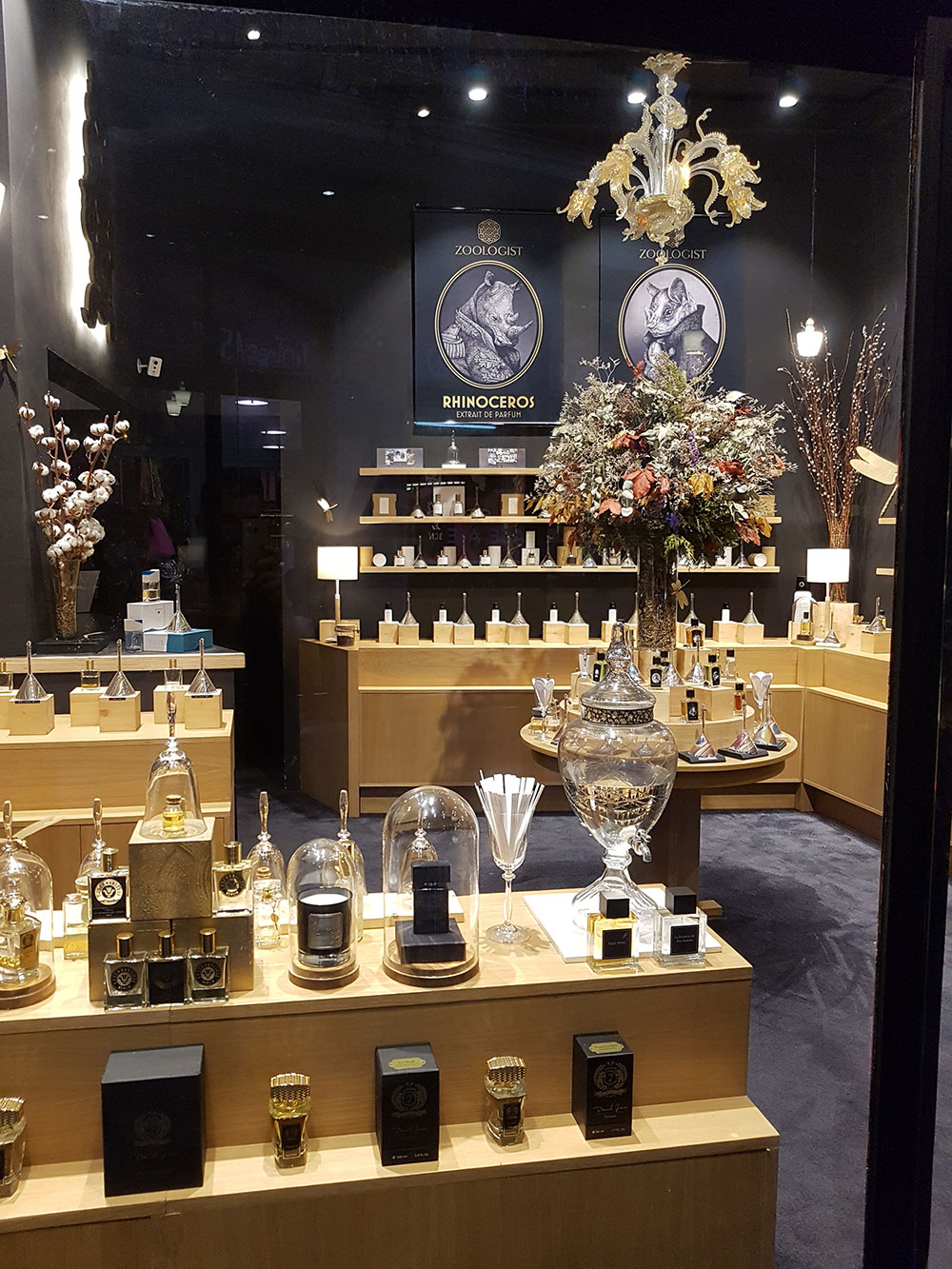 "Not only is The Perfumery Barcelona the perfect place to find a truly distinctive fragrance, but its  its location also adds to the Gothic romantic notion of the experience. Located close to the nearby Plaça Sant Felip Neri, the atelier pays an unofficial homage to the film ´Perfume´, which was shot on location here and acted as the protagonist for one of the more infamous murder scenes within the film" Charles Daniel McDonald.
The interior has been thoughtfully designed with the philosophy of Feng Shui. This Taoist concept is based on the conscious and harmonious occupation of space, in order to achieve a highly effective and positive influence on the people who occupy it.  In order to properly taste the perfumes, it is of the utmost importance to be in a seductive, yet relaxed environment. The perfumes are displayed and aligned millimetrically, with their corresponding glass funnels positioned in front of each bottle with military precision. Not only are they aesthetically attractive, they also keep each fragrance isolated from other smells. This limits the perfumes from entering into the atmosphere and mixing with the myriad of  other aromas. The carefully planned neutral environment was specifically developed to facilitate the choice of that special perfume that will differentiate us from the rest without the interference of secondary aromas.
The Perfumery Barcelona offer all the right notes to complement the melody of life. From pure perfume that comes complete with delightful bottles of bohemian glass to 100% organic options and perfumes made with synthetic blood and 23k gold leaf powder. They also stock a best-selling perfume of their own- blend which is dedicated to Barcelona and her martyr.
"We offer a true sensory experience at all levels where customers can establish a personal relationship with each and every one of our perfumes. The idea is not only to provide a unique and elegant interior, but also to offer a range of fragrances with a totally innovative system which is both aesthetically pleasing and above all, olfactorily functional. Some customers will identify with a single scent or perfume, while others will seek out to have a variety of perfumes that can be applied according to their mood or a certain season or time of day"  Thomas Dennis.
With this in mind, here are some of their most fantastical favourite fragrances which will transport you with their ethereal essences.
THE ESSENCE OF SANTA EULALIA
The Essence of Santa Eulalia is blended by Daniel Josier and dedicated to the ancient patron saint of Barcelona. The fragrance represents the strong character of Eulalia during her spiritual and religious stance against the Roman emperor Diocletian, back in the year of 305. This is also a perfume designed for the type of climate that is present in Barcelona – warm and very often, humid.
´The Essence Of Santa Eulalia´: Fresh, dynamic, energetic, spicy | Citrus aromatic.
It is a strong, fresh, clean perfume, full of positive energy and at the same time warm and mysterious. Bergamot and green apple give it a very fresh and clean spot. Its high content of ginger gives it a very positive power and lingering energy. Once you apply the perfume, it surges through the nervous system to give you an incredible boost. The perfume also carries incense and Vetiver in its bottom notes that later carries a warm and mysterious point to follow you for the rest of the day.
BAT
BAT belongs to the group of Zoologist Perfumes which was founded by Victor Wong back in 2013. It is a proud Canadian company located in Toronto which notably works with award-winning perfumers.
Zoologist Perfumes' fascination with animals is boundless. Their habitats, behaviours and looks; their similarities and differences to humans, and even their smells give us a lot to ponder. Zoologist captures the idiosyncrasies of the animal kingdom and transforms them into scents that are unusual, beautiful, fun and even shocking. Their scents will reconnect you with the primal instincts and manifold delights of the natural world.
´Bat´: Cavernous and mysterious | Aromatic frutal perfume.
Bat escorts you on an odyssey through the night. This unique olfactory experience carries you with the fruit bat to a sumptuous feast in a lush tropical jungle, before whisking you down to the recesses of its cavernous home. Bat is designed by Dr. Ellen Covey, winner of the 2015 Art and Olfaction Awards. She is both a master perfumer and a university professor who has studied bats extensively, and she now shares her insight and creativity through this one-of-a-kind perfume.
1850 TONNERRE 
´War´ is the other name for the perfume known as ´1805 Tonnerre. ´ Blended by Beaufort London, their concept pays homage to the concept of the history and culture of the militaria and the impending atmosphere of war.
´1850 Tonnerre´: gunpowder, smoke, rum, lime | Woody perfume.
Possibly the most covetable and unique perfume of the collection. This fragrance imagines moments from within the Battle of Trafalgar. Powerful chords of smoke, gunpowder, blood and brandy combine with the dew of the sea and a penetrating citrus note. The fragrance is uniquely bold in its composition, but ultimately refined, provocative and unique.
FATHOM V
Fathom V is another fragrance branded by Beaufort London. In 2017, it claimed first place in the Art and Olfaction Awards in Los Angeles.
´FATHOM V´: Dark | Aromatic Green perfume.
Fathom V by Beaufort is inspired by Shakespeare's masterpiece, The Tempest, which evokes images of violent storms, shipwrecks and magical islands. The main theme of Fathom V is a phrase taken from 'Ariel's Song' within the play. also alluding to the nautical term "fathom", a unit of to water depth.
If the experience within The Perfumery Barcelona stimulates your senses for more Apothecaric acumen, then you may be pleased to hear that they also run a workshop course entitled ´Introduction To The World Of Perfume.´ This course is aimed at individuals with an interest and passion in the world of scents, and the science and art of olfactory. Expect to undertake a crash course on topics such as the bio-chemistry of skin, the structure of scents and the psychophysics of perfume. This course is designed to offer a range of practical and applicable information for perfume lovers and users; and also for anyone who simply wants to absorb more of the more fragrant facts within the world of perfume.
If you're still unsure about why odours have a power of persuasion stronger than that of words, appearance or emotions, then a downtown trip to The Perfumery Barcelona will always end hitting the right chord.
Photography: The Perfumery Barcelona
Pere Mes Alt 58, Barcelona
"What do I wear to bed? Why, Chanel No. 5 of course." Marilyn Monroe

Editor-In-Chief, International Fashion Director, Creative Director, TV & Radio Presenter, Journalist, Author and Model – Charles Daniel McDonald has over 22 years of experience within the international fashion scene.
The renowned Editor-In-Chief and fashion critic of Contemporary fashion publication FORÇ Magazine presents FashionFORÇ, a prime-time fashion show which takes place every Friday morning from 11:00 – 12:00 on Barcelona City FM.