If East 17 means nothing more to you than embarrassing moments of pop culture from your heady 90's nights out, then I ask you to reconsider the alternative. This geographical postal location on London's ever-expanding map is home to an enigmatically entitled salvage operation called 'Gods Own Junkyard'. Far from being some sort of neo-heavenly bolt-hole for the religiously dispossessed, it actually turns out to be a rather interesting crossover between an abandoned film set and a retro boutique heaven, in a 70's Kings Road Chic sort of style.
Maybe, just maybe, I'm doing the intramural a disservice; the sheer volume of visually captivating images and amorphous neon curves is a veritable cornucopia of pleasure to the eye and reminiscent of the Blackpool Illuminations – on speed. This is by no means an opposition; it is just such a pleasurable experience being visually violated by association with the classic interpretations of technologies gone by. The whole establishment is not just homage to the fading glories of the American and Western dream per se, it's a creative free entry wonderland worthy of anything that Banksy could create, even in his wildest dreams.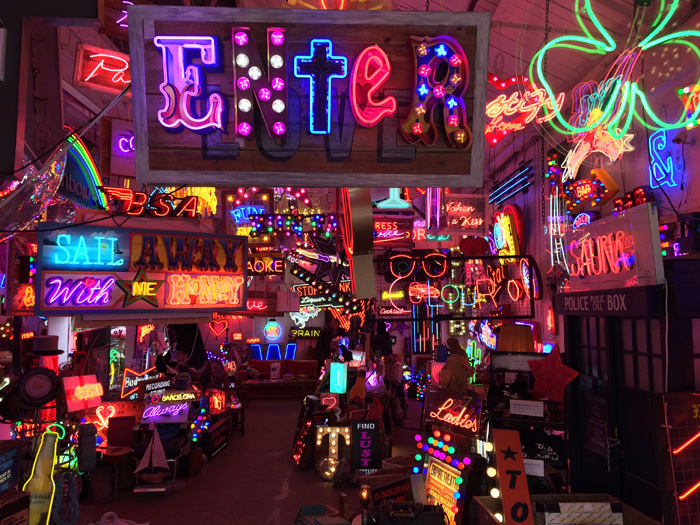 Chris Bracey was the original guardian of this eye-popping pleasure palace. He spent more decades than he cares to remember salvaging and creating used and new neon signs for the great and the good (including installation works for 'Charlie And The Chocolate Factory' and the Batman movie, 'Gotham City',) plus numerous other sets that had been comprised of reclaimed neon signs, salvaged and found items, circus adverts, movie props and displays. If you think original Steed and Mrs. Peel from the 1960's Avengers set then you won't be too far from the truth of this best kept pseudo-industrial secret, as Vogue discovered in October 2011 when they ran a cover and photoshoot here.
Indeed, the whole warehouse area permeates a magical grotto like fantasy for adults and this has led to Bracey having established a cult following in England and the spiritual home of the Neon sign, the United States. L.E.D. and Neon tubing rub shoulders intimately across the site to envelop the visitor and trigger memories of times gone by with a comfortable reassurance and thus creating a childlike wonder that is a sight to behold.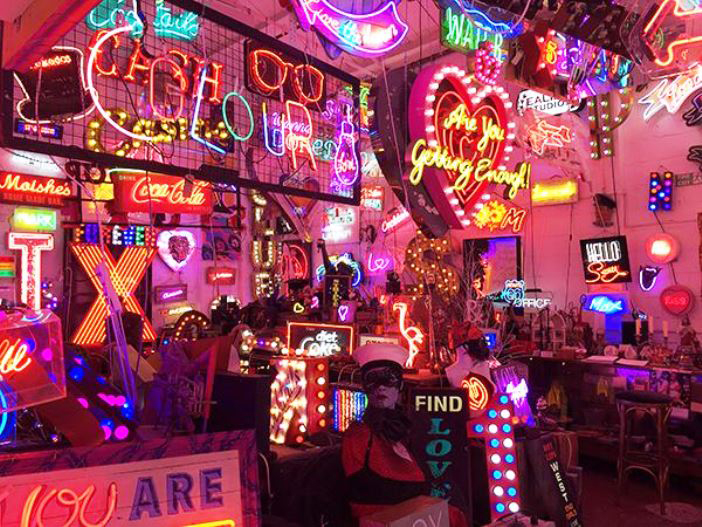 Bracey's loyalty to his craft is admirable and he claims never to have seen a neon tube that he didn't like. His craft came from a family of local sign makers who had been around for many years creating signs for movie sets, Soho establishments, fairgrounds and shop fronts, to name but a few. With all this in mind, the noun 'junkyard' is too cruel a term, so its presumed to be aimed as simply a parody, thanks to its profusion of ethereal electrodes. The site can be best described as 'eclectic' with restored signage and custom art projects that are light themed. What warehouse wouldn't kill for its own giant stiletto, a full size Dr. Who Tardis and a dog eating shark greeting you upon arrival?
Looking for a 250 kg glitter ball? No problem. What about ahandmadee bulb for your own personal bit of illuminated heaven? That's easy too. The most lovingly crafted objects from the ridiculous to the sublime are offered by Chris and his talented son Marcus, alongside long-standing assistant John. Between them and their combined knowledge and skill, it´s quite easy to navigate the site and learn the history of this ingeniously illuminated world of wonders at the same time. In best glitzy fairground flashing bulb traditions, it's the greatest free show in town.
"
We are entering the Dark Ages, my friend, but this time there will be lots of neon, and screensavers, and street lighting." Edward St Aubyn

Editor-In-Chief, International Fashion Director, Creative Director, TV & Radio Presenter, Journalist, Author and Model – Charles Daniel McDonald has over 22 years of experience within the international fashion scene.
The renowned Editor-In-Chief and fashion critic of Contemporary fashion publication FORÇ Magazine presents FashionFORÇ, a prime-time fashion show which takes place every Friday morning from 11:00 – 12:00 on Barcelona City FM.