My girlfriend and I arrived at Arte Bar with some conflicting ideas of what to expect and a keen awareness that neither of us had painted a canvas since GCSE art. Five hours later, we staggered out, a little tipsy, full of tapas, and of course, flourishing our fresh masterpieces with newfound confidence in our brushwork ability.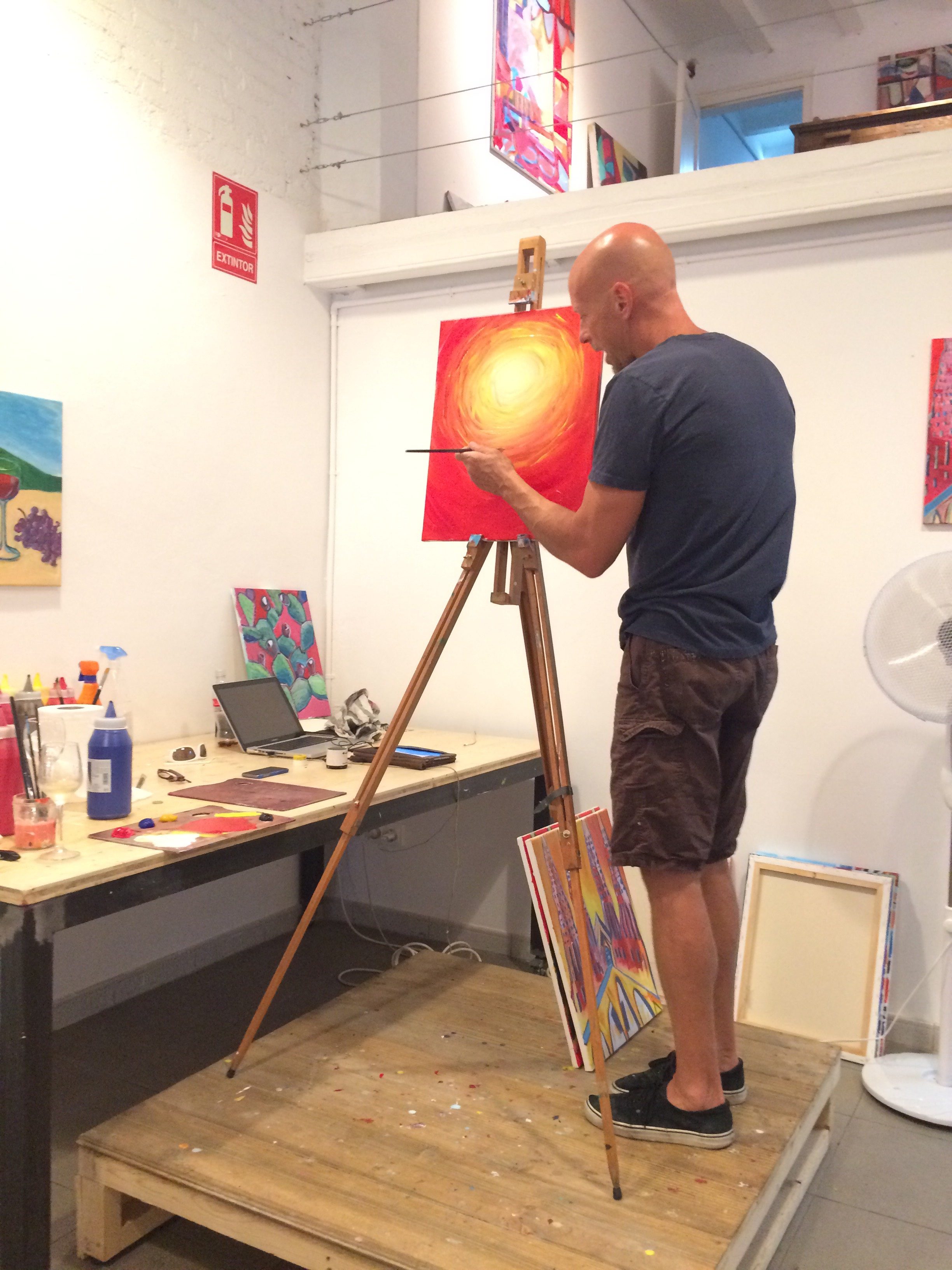 According to the official website, experiences at Arte Bar last 2.5 hours but a combination of the infectious laid back attitude of our hosts, the easy conversation between 'students' and 'teachers', and the genuine (albeit somewhat surprising) engrossment in the job at hand, banished any thoughts of returning home from our minds for nearly five hours!
When the clock hit 11pm, it was with some reluctance that we finally blow dried our creations and said our goodbyes to Bruce and Alisa – who even then made it clear that we could probably have opened yet another bottle of wine (had it not been a Sunday and Bruce's birthday the following day).
It would be an injustice, however, to suggest that the alcohol prompted an inflated idea of our own creative abilities. Bruce's layer-by-layer teaching method made it easy for everyone to get past the initial daunting blank canvas, in order to produce first a stunning background, and then stencil in the details, before being given free rein to complete the rest. Even at the early background stage, each 'pupil's' own unique flair and artistic vision was materialising and time was taken out to appreciate each others' efforts whilst munching tapas and nibbles. Back at the tables again, Bruce guided everyone through the next phase of painting, providing useful demonstrations on how best to use each brush and different methods of colour mixing. All questions and queries, whether about the art or about our host's/teacher's opinions, hobbies and lives were answered with relaxed and charming ease, and it felt more like we were old friends catching up than students learning about art and wine in equal measure.
As promised, three different types of Spanish wine were offered; two whites and one red, the grapes grown and bottled locally. A true connoisseur may have done a lot more justice to Bruce's detailed and erudite description of the grapes, fermentation procedure, and eventual bottling process than our ignorant ears could, but even to know-nothings like us, it was still extremely interesting and clearly well researched. Possibly the only disappointment of the night was felt by Bruce and Alisa upon discovery that we were more interested in the quantity rather than the quality of wine available, nevertheless, there was not the slightest chance of our glasses being left empty and teachers and 'students' alike partook with pleasure. Indeed, Bruce and Alisa's generosity and warm-heartedness permeated the entire evening, and had we expressed the slightest indication of craving more, no doubt more vino or snacks would have been offered without hesitation.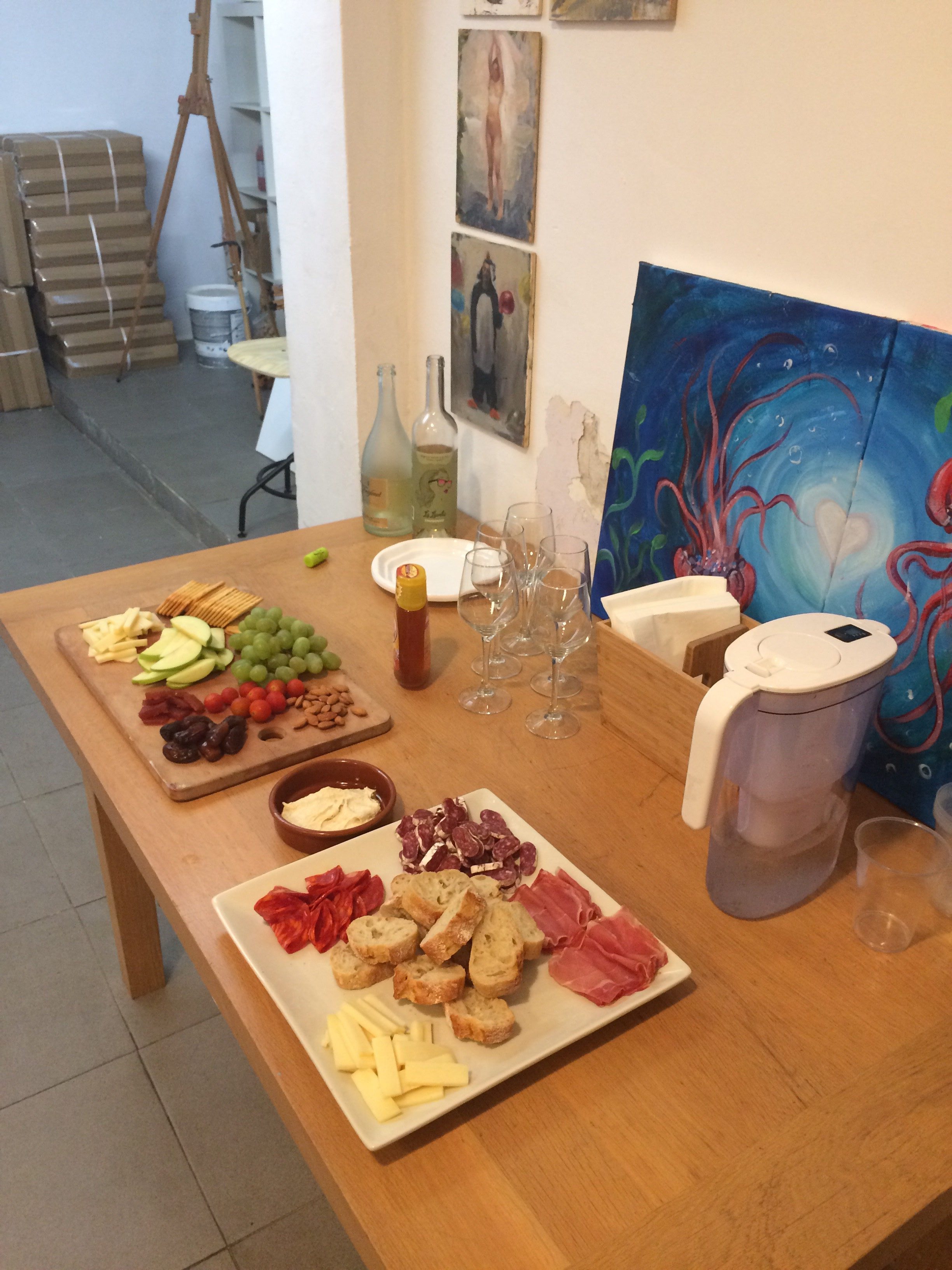 Overall, the Arte Bar experience is a unique and thoroughly enjoyable blend of refinement, education and warm American hospitality. Whether you turn up alone or in a group, you are equally guaranteed to make friends, enjoy great food and wine, and learn step-by-step how to paint a great painting you'll be proud to hang on your wall. It doesn't matter if you're an aspiring Rembrandt or believe yourself to be without any artistic flair, you should definitely try this new form of entertainment.
Artebar
Carrer de Roger de Flor 135
08013, Barcelona
info@artebar.es
937 63 57 71
"Life is the art of drawing without an eraser." John W. Gardner