Even though I love Sónar by Night, my favourite place to hang is SonarVillage.  It's also close to where the Press Room is, so hacks can easily nip in for vital supplies of Redbull and water in between trips to the VIP beer tent.
I have to say though, I totally failed in my Sónar+D mission this year.  In previous years I had used this opportunity to explore creative and musical greatness but my schedule had already gone Pete Tong the week before.
It was intended to be a glorious affair.  I even had a schedule – attending workshops, asking questions, taking it all onboard and really getting to grips with the creative technology et al.  Alas, however… I did make it for opening time at Networking Day.
Gender equality for Women in Sónar
I can report that the new Wednesday Networking Day activity was very cool. There was food, and even drinks partner Estrella Damm weighed in with a few free beers.
This is where I met up with Barcelona City FM's (outside location) crew – Michelle Hardiman and her radio show partner Tottie who were reporting from the festival to discuss an issue Sónar tackles rather well.  So what were they up to exactly?
"We're here to talk about female equality in the industry and record profile pieces to transmit on FM radio here in Barcelona – including a live Facebook stream and a daily video dairy on Barcelona City FM – an English language broadcast on 107.3FM and online," Michelle explained.
"The broadcasts feature interviews with performers, artists and keynote speakers. As a small local radio station we feel slightly overwhelmed by such an open response," she added.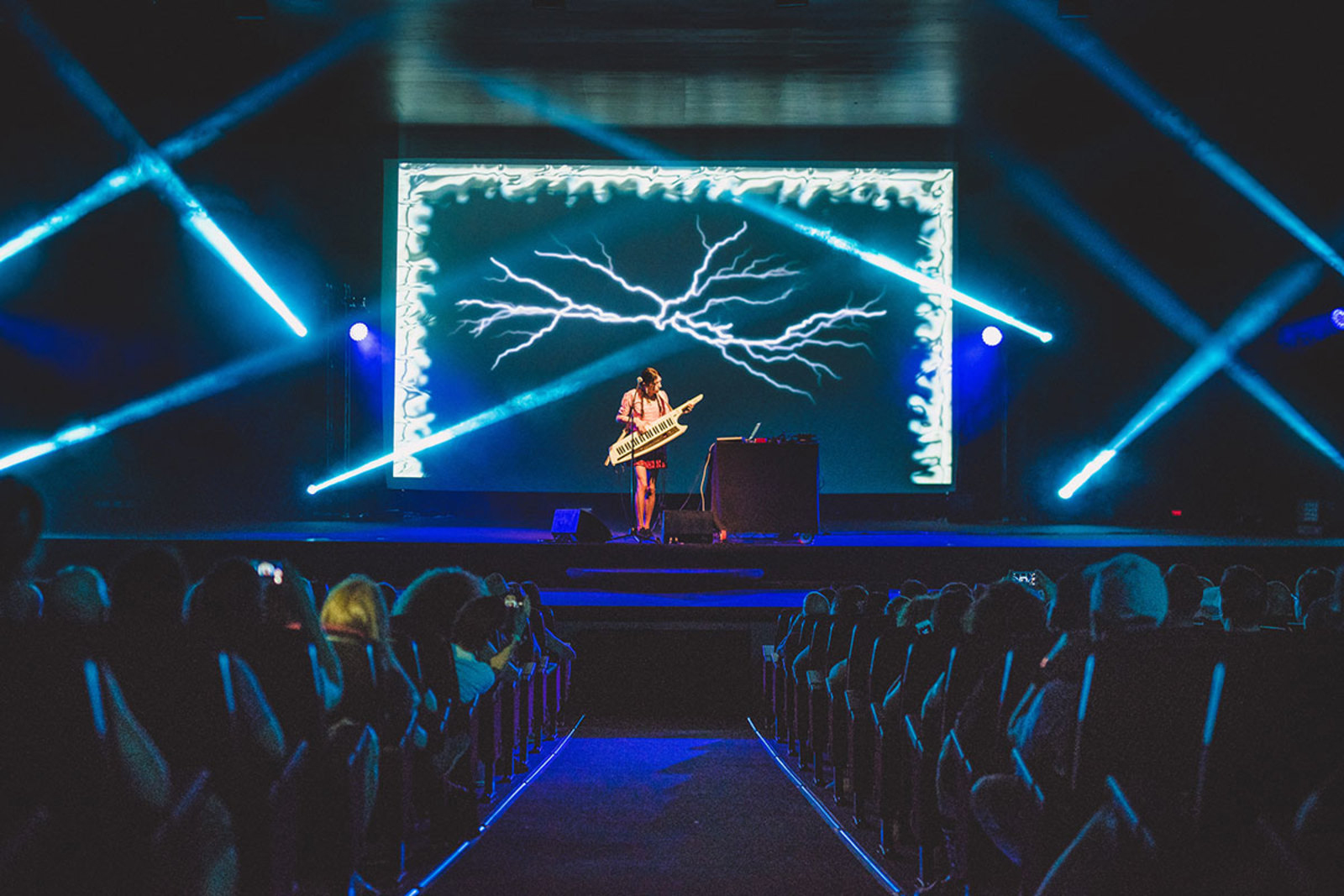 "Check #wis2017 #womeninSónar2017, which will link anyone to our interviews with key Sónar performers such as Little Dragon's Yukimi Nagano, Elysia Crampton, Ylla, D△WN, or keynote speaker Emma Pueyo from the Más Mujeres Creativas organisation," they explained.
"For us the main question is when equal pay is going to be compulsory throughout all jobs roles?  Whether you're a CEO, DJ, runner, sound engineer, musician, actor, creative, I think it's time we lock that down.  Finland seems to be leading the way," they said.
"In general, women still get paid less in most job roles.  Why should we take a job for less money?  If women earn more, they will probably spend more and that's a boost to the economy, right?" joked Michelle.
"There are less opportunities for sure.   Just last week I got turned down for a DJ gig because they wanted a man, and yes they told me that.  Maybe it was a bad excuse.  I suppose you have to take the rough with the smooth, sometimes you're just not right for the job, it's not necessarily because you're a woman.  So I try to look at it from all sides and I personally try not to be too sensitive about it.  I think the gender gap is closing.
(Personally I am an advocate, I worked with high flying female executives in the dot com boom many years ago, but I didn't let on!)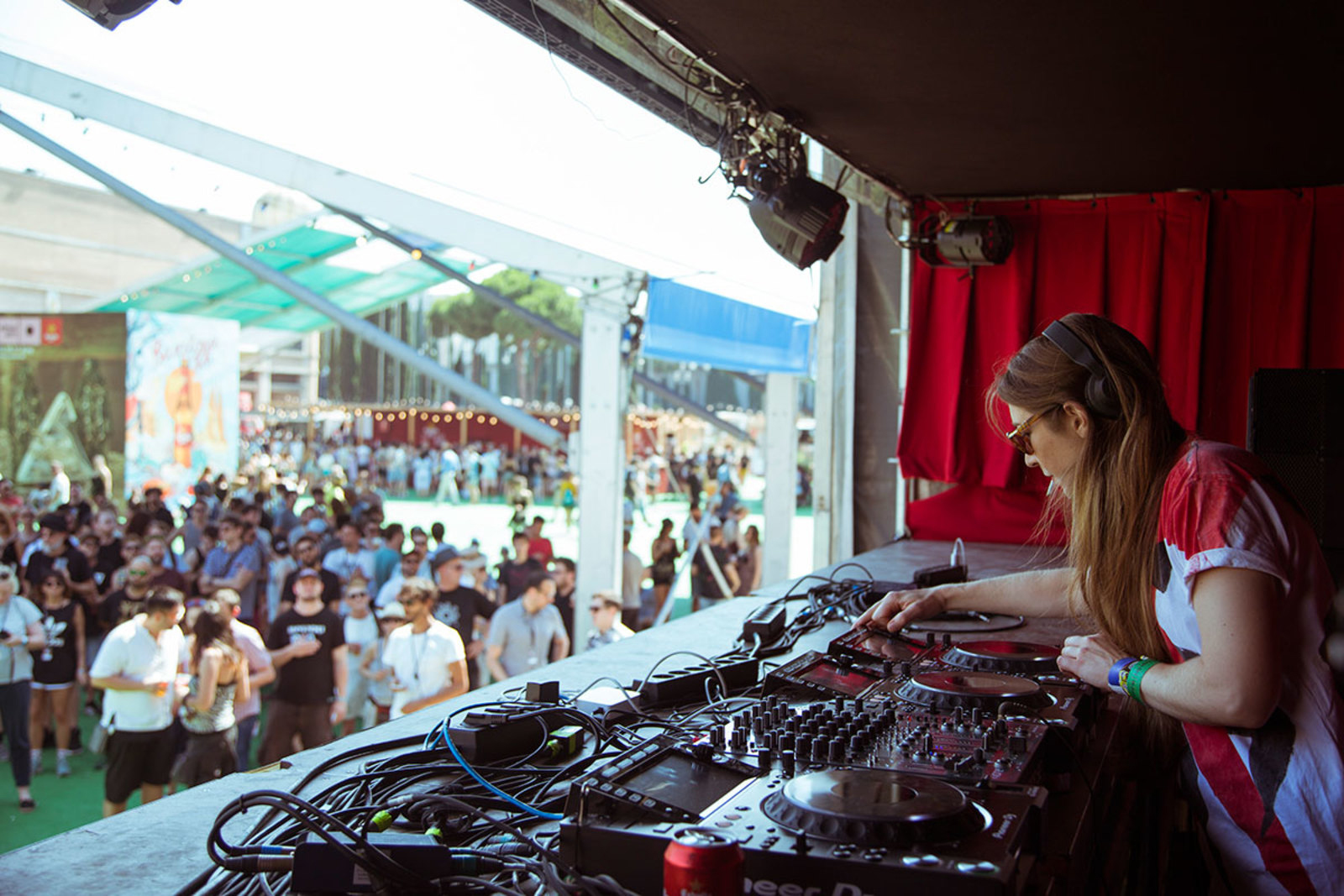 I asked; "I see a lot of women holding senior positions, for example at Fortune 500 companies… in fact isn't there a female CEO at IBM now?"
"Right.  Ginni Rometty was in her mid-fifties when she became CEO.  I wonder how many other women hold senior positions at tech companies worldwide?  In percentage terms, women are still underrepresented in high-paying fields.  Fact!   More interestingly, there is a much higher number of young women who graduate from higher education technology degrees and other qualification courses, but only 1% leave with a job opportunity."
"Perhaps this is the gateway to success, something the system needs to work on.  There are women out there entitled to more senior roles… it's clear we are moving in the right direction," the pair observed.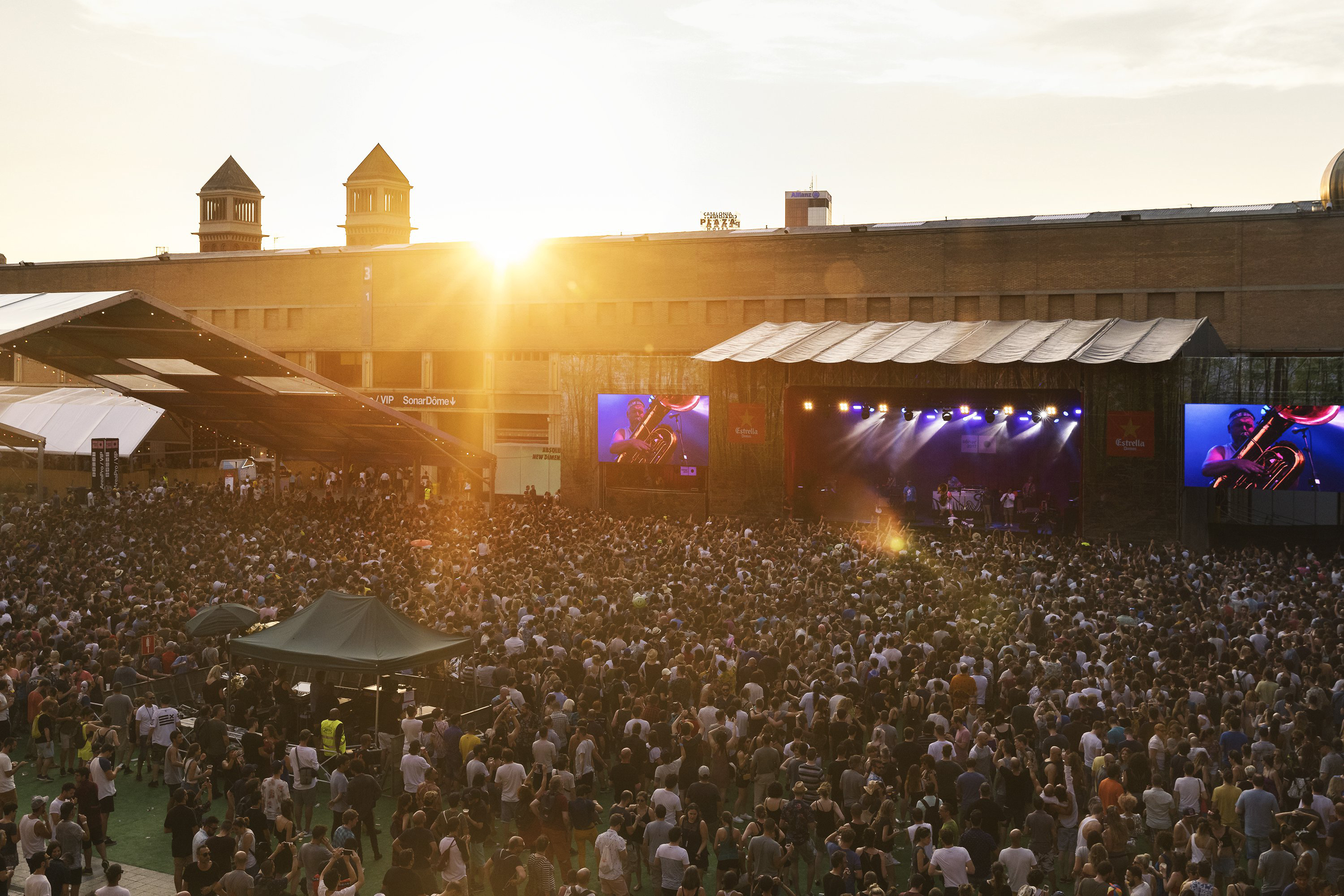 Friday Night
Being situated just off Plaza Espanya, Sónar by Day at – La Fira Montjuïc is a breeze to get to by any means of transport, located just off the city centre.
SonarVillage is a grandiose leveler and I always get – and every year it's better – a great sense of calmness milling around it.  I imagine Yoga instructors would book you in for a few sessions to really get your mind, body and soul to a destination like this… #musicbaby #poppop #popmusic
Luckily, I always bump into familiar faces in a crowd of umpteen thousand – pretty impressive – and that ensures that I do get dragged along to a few other acts for first time listens.  This combined with a bit of business, as I also like to doorstep one or two punters (nightclub owners and promoters) to let them know I am coming ''round their manor' soon.

This year SonarVillage seemed busier.  Weather seemed slightly hotter, it was full on urban Med-ilicious… This year the festival organisers extended the duration of Sónar by Day to an 11pm close, which was most welcome with a more varied programme of activities, including a new stage called SonarXS.

Believe it, or not, as a DJ, I'm really shit at listening to music, mainly set in my ways and not as open as I should be to stuff that's really outside my horizons – but here at Sónar by Day, I feel at ease to do that and always love it.
For that reason alone, my heart lets my ears follow Sónar's billing.  I may not like all the acts – I don't – but I easily loosen-up into it once in here.  I listen with my ears, not my eyes.
I really loved acts DJ Lena Willikens and live set by Roosevelt representing Cologne's On Pop MusikFestival.  Roosevelt, along with band members, had a really smart set-up and reminded me of an 80s or 90s sound – New Order-esque, if you like,  but with a thoroughly contemporary approach and a fresh output that really lifted the audience.
I even got into Stööki Sound who looked comfortable in front of the SonarVillage massive while spinning dirtier beats and dropping rhymes.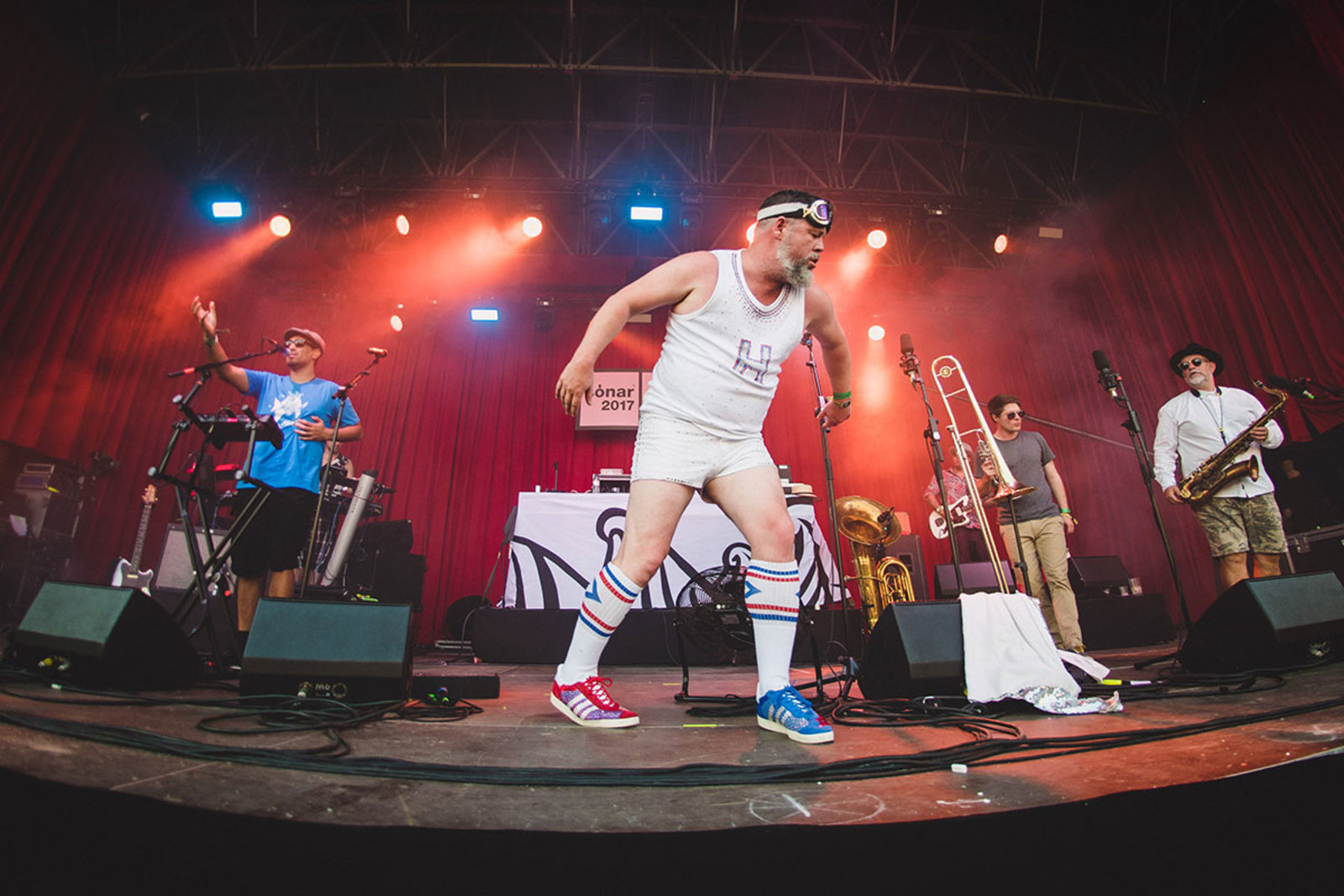 The stand out act for me on that night was Fat Freddy's Drop.  I had neither heard of them nor heard them before.  All I know is that I want their bass, a whole new level of phatness.
I was going to head somewhere else for another first time listen, but a local 3D artist mate suggested something different (Hèctor Díez from Tigrelab). It was a good one!  Warp Record's Clark in SonarHall – I know, how the hell did I leave that so long?
I just had a peek though, because it was time to chill on the grass with some friends and take drums and dessert with Damian Lazarus for the last two hours.  I never really saw the performance, but I heard it and it was blissful.  Then we drank every bar dry on the way home.
Whya gotta love a Friday!
Damian Lazarus at Sónar 2017
https://www.youtube.com/watch?v=Nui8I6946jc
"I love to see a young girl go out and grab the world by the lapels. Life's a bitch. You've got to go out and kick ass." Maya Angelou

Since moving to Barcelona 15 years ago, Mark established himself as a DJ, producer, radio presenter and a freelance writer. He has written for various online, print publications and TV shows. Recent interviews with legendary artists include Jean Michel Jarre, Laurent Garnier, Dubfire & Funk D'Void as well as emerging artists like Carlo Lio, Mark Reeve or Coyu. You can catch him spinning tracks at Macarena Club and the Animal Love Parties.