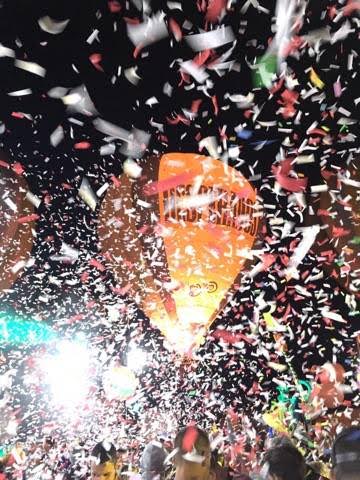 There's a certain amount of trust you are inclined to place in an organisation like elrow. Teaming up with Desperados, they planned to transport 1000 people to a secret location just 2 hours from Barcelona and provide attendees with a night of internationally acclaimed DJ sets and a wholly unique experience. On September 16th 2017 Jackmaster, Honey Dijon and Paco Osuna would play from the sky as 'Skyfest' vowed to surround party goers with an armada of hot air balloons. I think Jackmaster spoke for us all when he said it was 'one of the maddest ever'.
We were told the party would start as soon as we stepped foot on the coach at Av. Joan Carles and we were not disappointed as we were welcomed by elrow actors costumed and ready to entertain. However, as we stepped off the coach in a ski resort service station not far from Andorra in dresses and sandals it is safe to say our trust in elrow was tested.
As we progressed up the mountains, the weather took a turn for the worse, the sky blackened and lightening was striking around us. Trying to keep spirits high, we joked that this is the sort of trick that elrow would pull. Echoes of 'you have to laugh' were heard throughout the coach as we all desperately tried to convince ourselves that as soon as we arrived it would be fine. We drew closer and were instructed to draw the curtains; our trepidation grew back to excitement.
Once arrived, we were directed into an area filled with bars and street food stalls, and in true elrow fashion nothing was spared in production. Lazers filled the sky and the DJ booth was a graffiti covered school bus. Despite the cold we got our rain ponchos on and redeemed our free drink token, it wasn't long until it became clear that our original trust in elrow was well warranted. As the coaches of party goers gradually arrived and joined us at Andorra-La Seu d'Urgell Airport and the music warmed us up, we quickly began to appreciate the scale of this event. Peaking behind the fences of this area were 7 hot air balloons starting to rise. Excitement was building and eventually we were directed into much bigger arena. The seven hot air balloons formed a semi circle, the biggest a desperados branded one in the centre. Desperados and elrow had elevated the festival experience to new heights.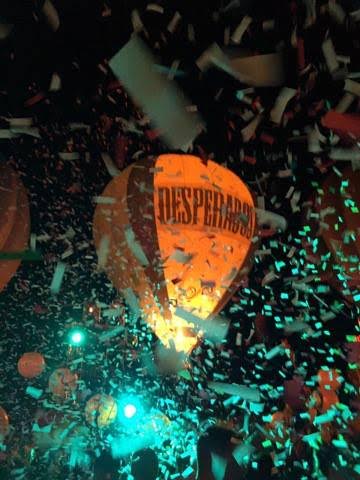 Jackmaster, Honey Dijon and Paco Osuna played their sets from inside the balloons as each alternatively fell and rose throughout the night. The combination of the spectacularly lit balloons with their roaring fires and electronic beats booming out certainly made for a unique and multisensory experience. The sky was full of music, lights and confetti, whilst the floor was covered with typical elrow carnage, as all sorts of weird and wonderful characters passed you by on stilts, and people dressed as minions tried to engage you in a dance off. The whole evening felt somewhat surreal and as we were taken back to Barcelona we agreed that Desperados and elrow had succeeded in putting on a show like no other. Any future collaborations will be an event not to be missed.

I am an English Literature and History student temporarily living in Barcelona. I'm eating, drinking and dancing my way through as much of the city as I can!