Originally from Bournemouth/UK, Abi Fantastic came to Barcelona with a one-way ticket to help with an art project for Nowhere festival. She decided to stay for a while  to discover the art world here, and admits that the last 4 years have flown by! Hungry for more than just an annual blast of alternative art and Burner antics in the Aragon desert, Collaboration Station brings together performance, art, DJs, live music, a craft market, delicious food and an eclectic crowd of freewheeling party people every couple of months.
What is your earliest memory of an impactful encounter with art, and did this influence your personal and professional life in any way?
I've been interested in art and crafts ever since I was a very little girl. I was obsessed with the children's program 'Art Attack'.  I ended up painting in the style of Abstract Expressionism and have been very influenced by artists such as Jackson Pollock, Willem de Kooning, Fiona Rae and Kandinsky, to name a few. A lot of my studies at University were based around this, resulting in my own particular style which my tutor described as 'Art Attack on acid!' Ha! Full circle!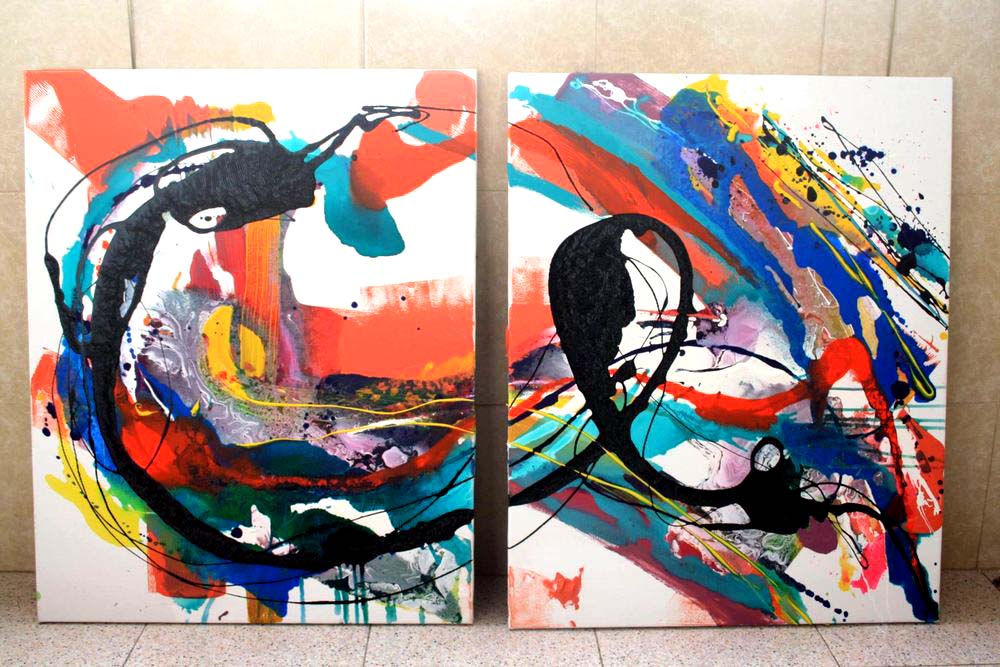 Do you plan your paintings before making the first splash on canvas or do they emerge spontaneously?
I have always been and think I always will be a very unconscious painter. I tend to go into a very nice headspace, which some people have referred to as my 'Abi meditation'. It's kind of like my happy place. I have had many commissions which I love, but sometimes find this hard as I get preoccupied with what the result will be and whether the customer will like it, instead of going with my usual flow.
How do you go into this headspace and what happens there?
That's a hard one to answer as I'm not really too sure. As soon as I have a blank canvas in front of me and all my paints around me, I get this little feeling of excitement inside and literally just go with the flow. I paint my pieces in stages so I have to know when to stop and let them dry for the next layer. I've definitely had to train myself to not do too much too soon, as my work can be very bold, but it also needs time to breathe and not be too overwhelming. Since I live my life at a million miles an hour, always here, there and everywhere, it's nice to have this time for myself. I'm not really one for yoga and meditation, so I guess I find my meditation and quiet time through painting, even though the paintings themselves do not seem quiet or calm!
Which other cities inspire you especially and how does their art scene differ to Barcelona?
I have always followed the art scene in America, especially New York as this is where Abstract Expressionism started in the 1940's and 50's and still has a strong presence to this day. I was there very recently for a commission and had a great time visiting the MOMA where it all began.
San Francisco has a great urban street art vibe, which is fairly similar to Barcelona. But I do love the art scene here. It was a college trip that first made me discover Barcelona and I immediately knew I wanted to come back.  Of course, there are still many other cities and countries I have yet to explore!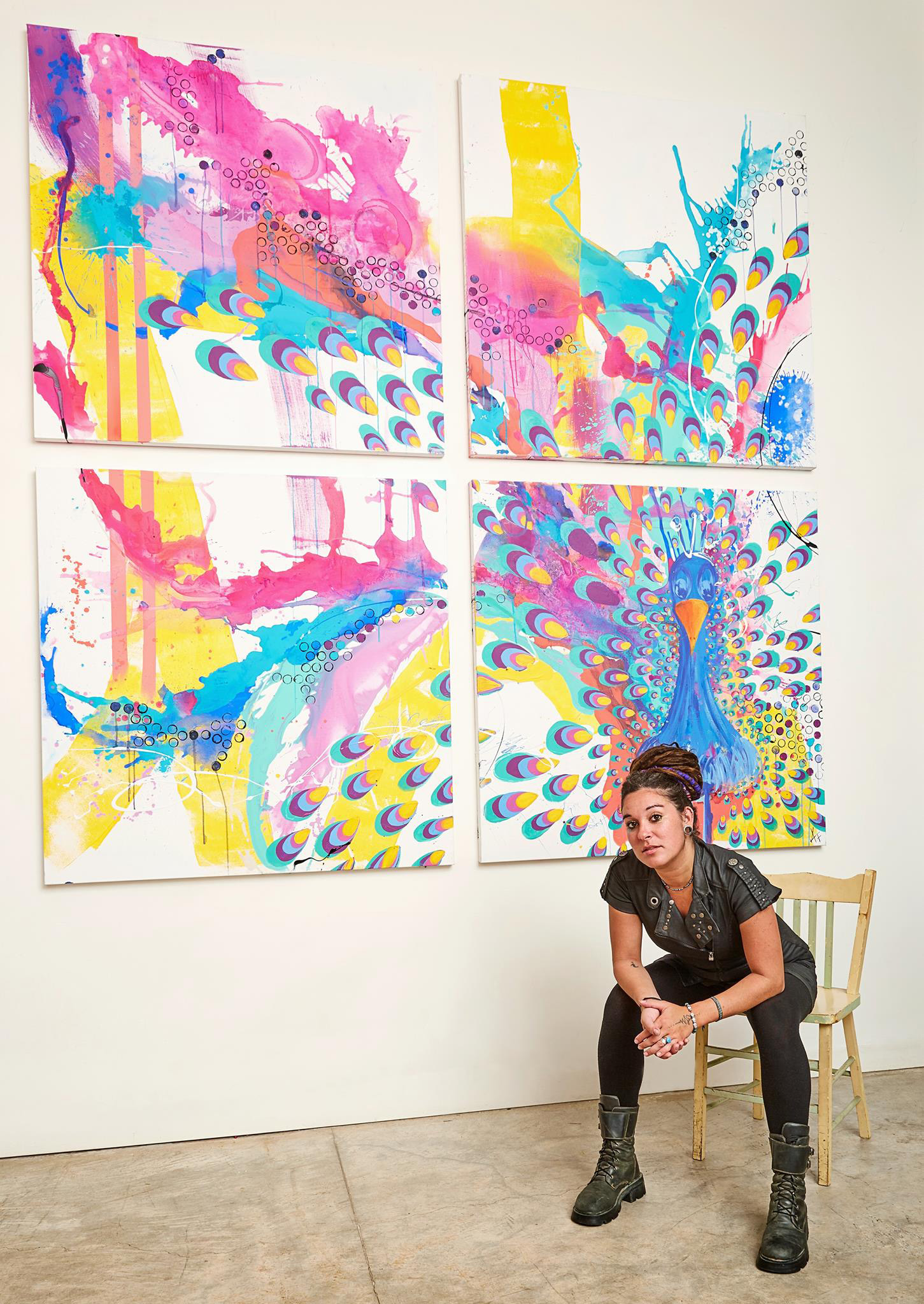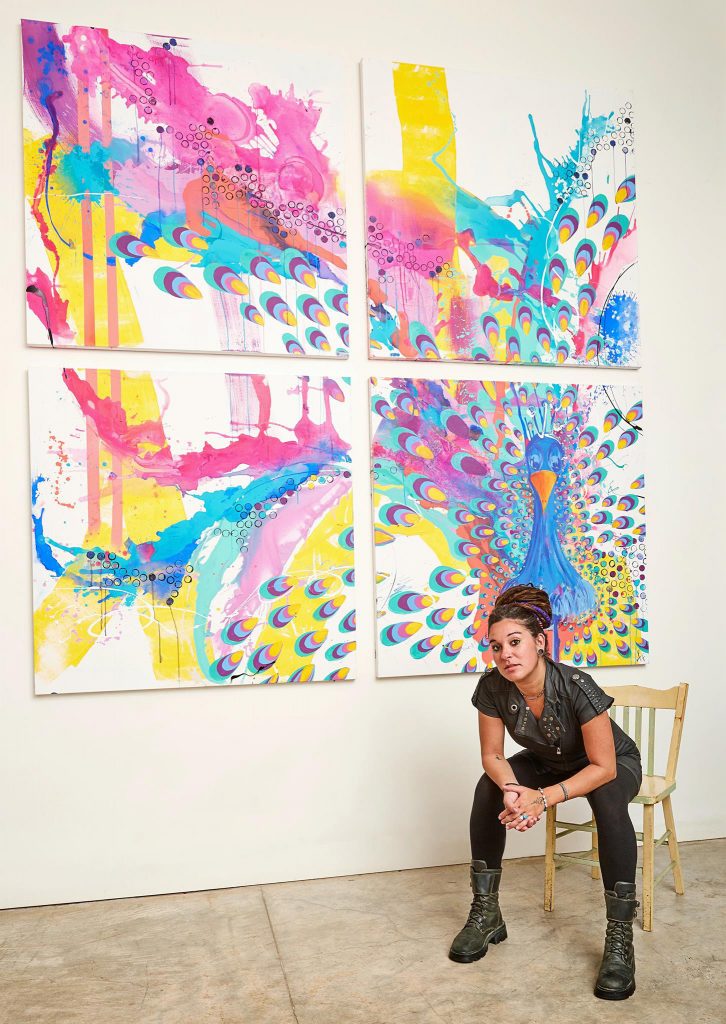 Is there anything you've seen elsewhere that you'd like to experiment with in Barcelona?
I'd like to get more into street art I haven't really done much, and I think that's something that works well both here and in San Francisco.
Have you noticed any particular synchronistic synergy between the artists who participate in Collaboration Station?
All the artists have something in common in the way they support each other by being part of such a diverse and upcoming event. As far as content goes, I do try and keep it all very different to have a nice wide variety of work for people to enjoy. There have been some great connections between artists who meet at the event and go on to work together. I love seeing these types of connections as this is what it's all about. A platform for artists to discover and grow!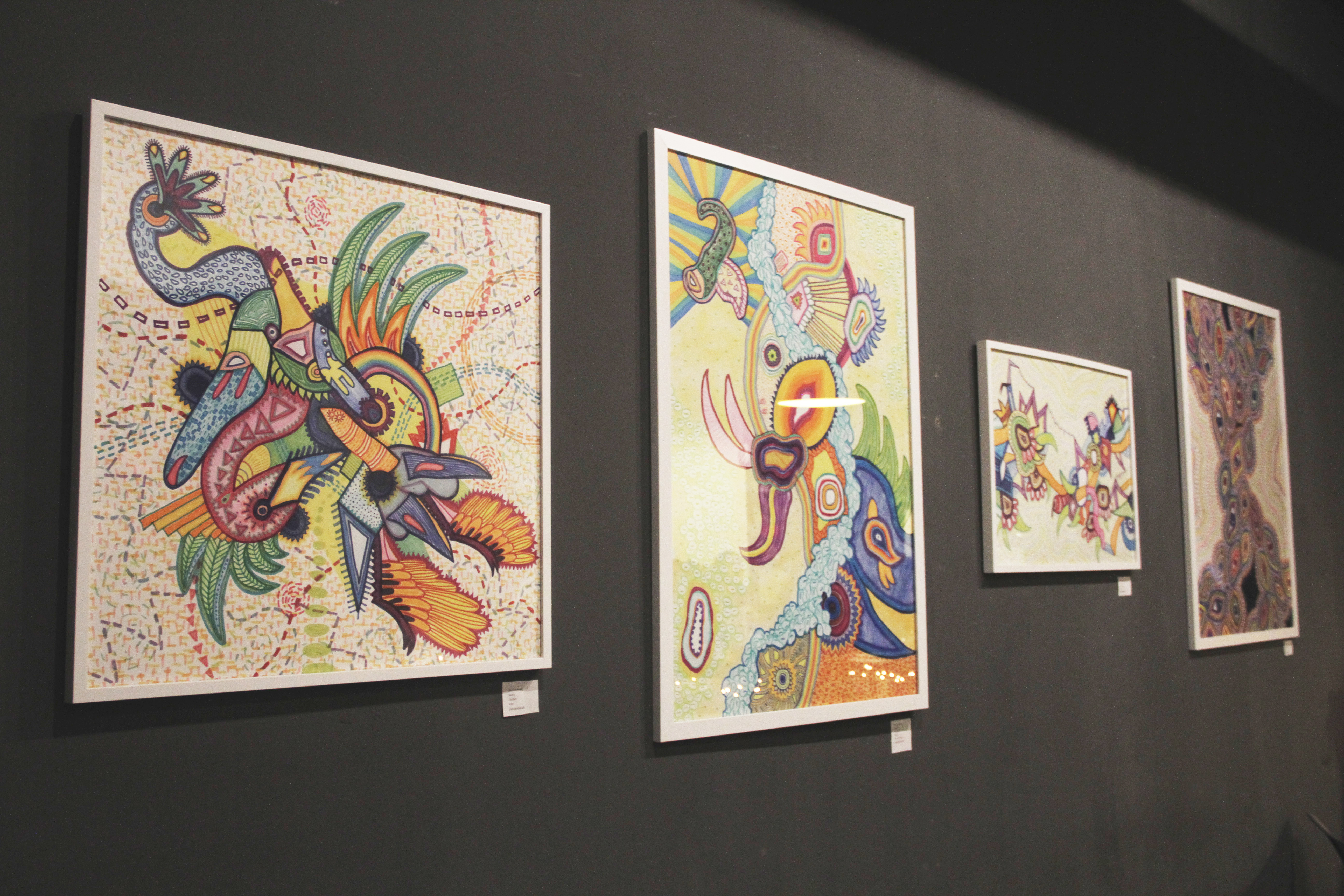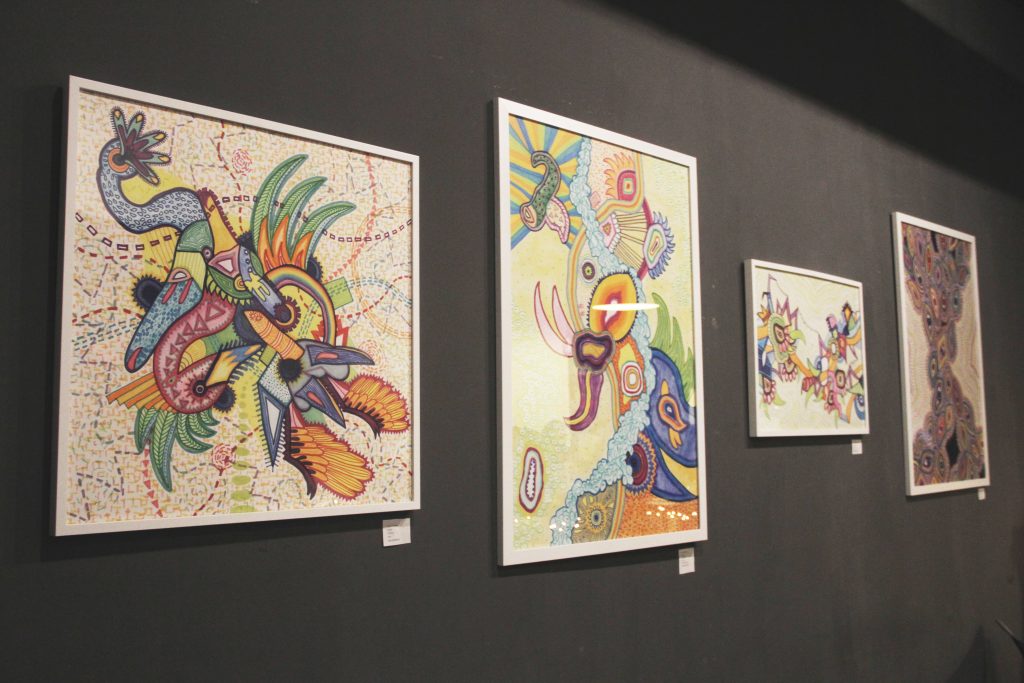 What kind of performances dazzled the crowd at the last edition of Collaboration Station in December? 
There was a lovely guy called Joshuo Sailo who performed a really beautiful contemporary Indian choreography, and we had a Shibari performance by Glü Wür which was also was extremely beautiful. This is a form of Japanese rope tying which can be highly erotic as well as bit shocking, which is great! At previous events, we've also had many different dance performances and marionettes, as well as aerial acts such as silks and aerial hoop.  We're always looking for more original acts to perform.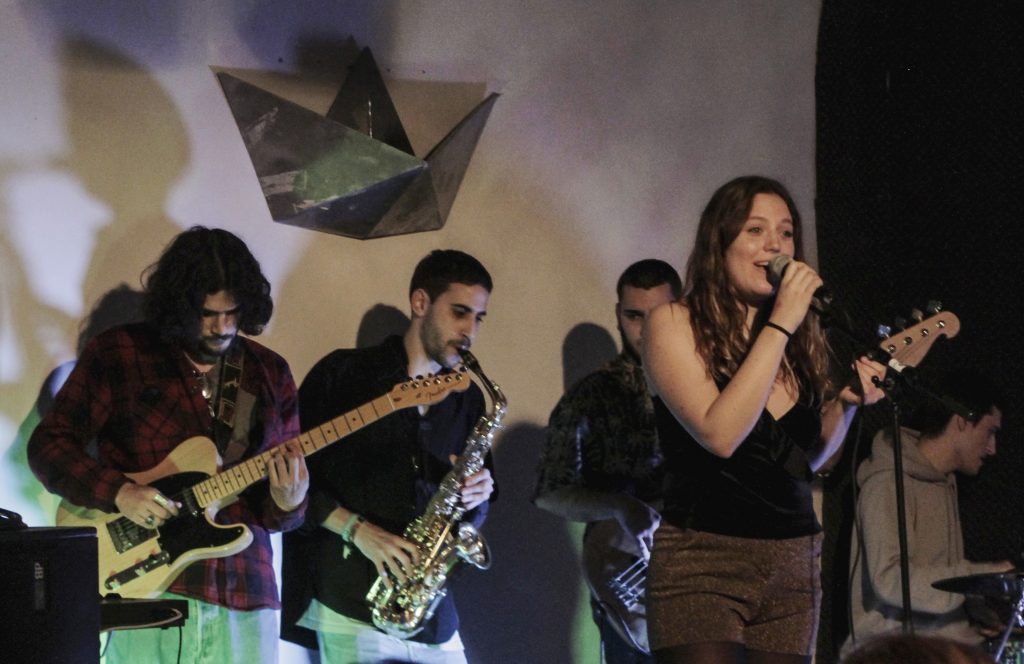 What plans and dreams are on the horizon for 2018?
I am very excited and full of ideas for this year. Both Collaboration Station and my personal work have grown amazingly in 2017, so it's full steam ahead! I have many ideas to help expand and grow Collaboration Station, so keep checking in and keep your eyes and ears open over the next few months to see how things go. I'm also looking for new, bigger spaces to host the event, and making plans to take some ideas to Berlin. it's all very exciting. I just need to keep my ideas in sight, stay positive and start to create a good team behind me to make it all come together. 'Watch this space' as they say!
If you could choose between a lifetime supply of glitter, flashy lights or paint, which would you pick?
Well, luckily I don't have to choose as it might be glitter every time. I wear it every day- every damn day – ha! I want ALL those things, please! But if I had to choose between them, paint would win hands down every time.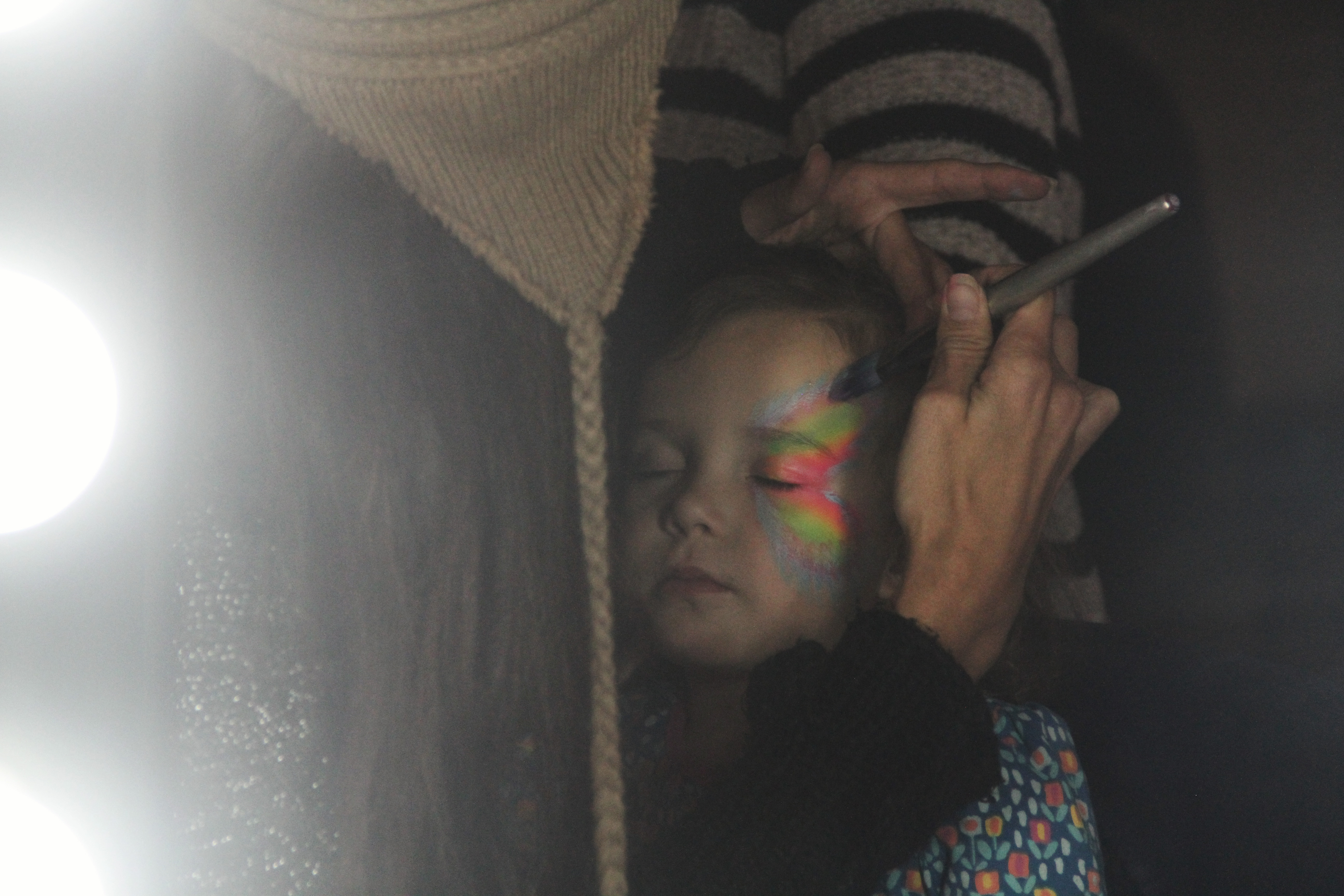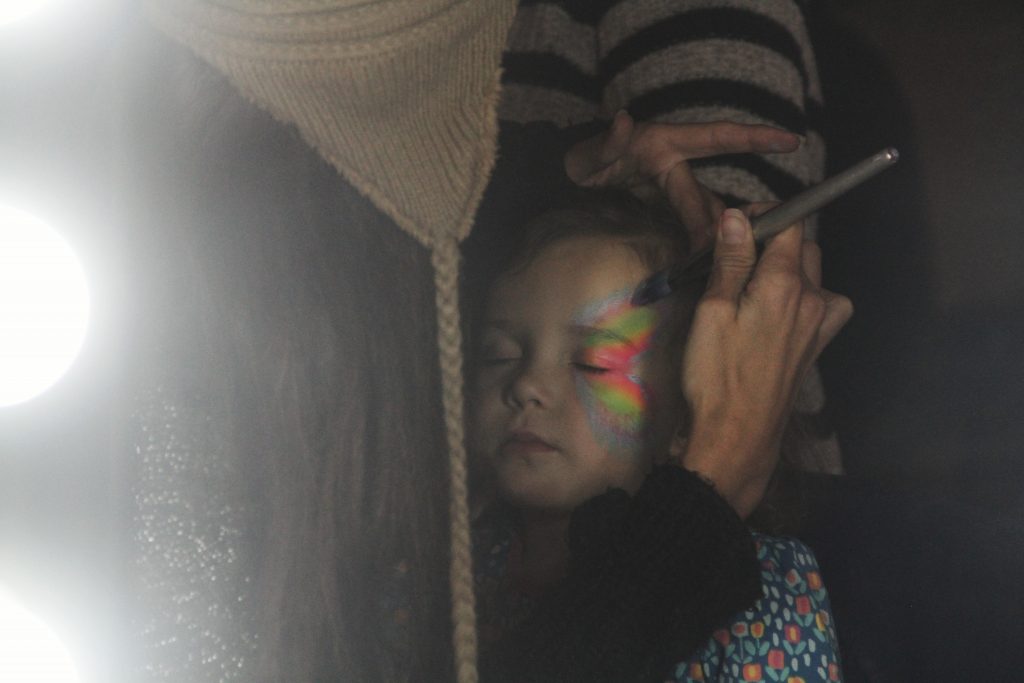 How can people get involved with Collaboration Station?
I am always searching for new and exciting artists of all genres, who I tend to find just going about my daily crazy life. It's also great that many artists are interested and have been contacting me lately – I love this. So, anyone who has any interest in getting involved in any way, please feel free to message me on either the Collaboration Station Facebook page, Abi Fantastic Art page or by email to abifantastica@gmail.com.
"The only people for me are the mad ones, the ones who are mad to live, mad to talk, mad to be saved, desirous of everything at the same time, the ones who never yawn or say a commonplace thing, but burn, burn, burn like fabulous yellow roman candles exploding like spiders across the stars…" Kerouac