A spotlight casts most of the stage into darkness. Two chairs are arranged around a rustic wooden table, a full crate of beer on the floor. Inspired by Václav Havel's play,"Audience", its scenes unfold in a Czech brewery in1975. Simple and abstract, humorous and compelling, two female performers wear their satirical masculine roles as vividly as the giant head masks that sit on their shoulders.
The physical dialogue begins between the brewer, representing the oppressive communist system, and a struggling playwrite who works for him, Havel's alter ego. Like many intellectuals and artists of the time he was forced by the regime to do manual work in a factory. "Have a beer!" declares the brewer, cracking open a bottle, two bottles, three, filling their glasses, spilling it over the table and flinging  it in a parabolic whirl, like a sparkler of foam in the sky. Legs spread open, head tilted backwards and bold gesticulation, he is locked in an interactive dance of physical theatre with his shoulder-hunched counterpart who refuses to drink, yet raises his glass in a reluctant toast. The performers change roles several times, as one goes to the bathroom – each time making a hilarious exit for the call of nature –the other takes his place.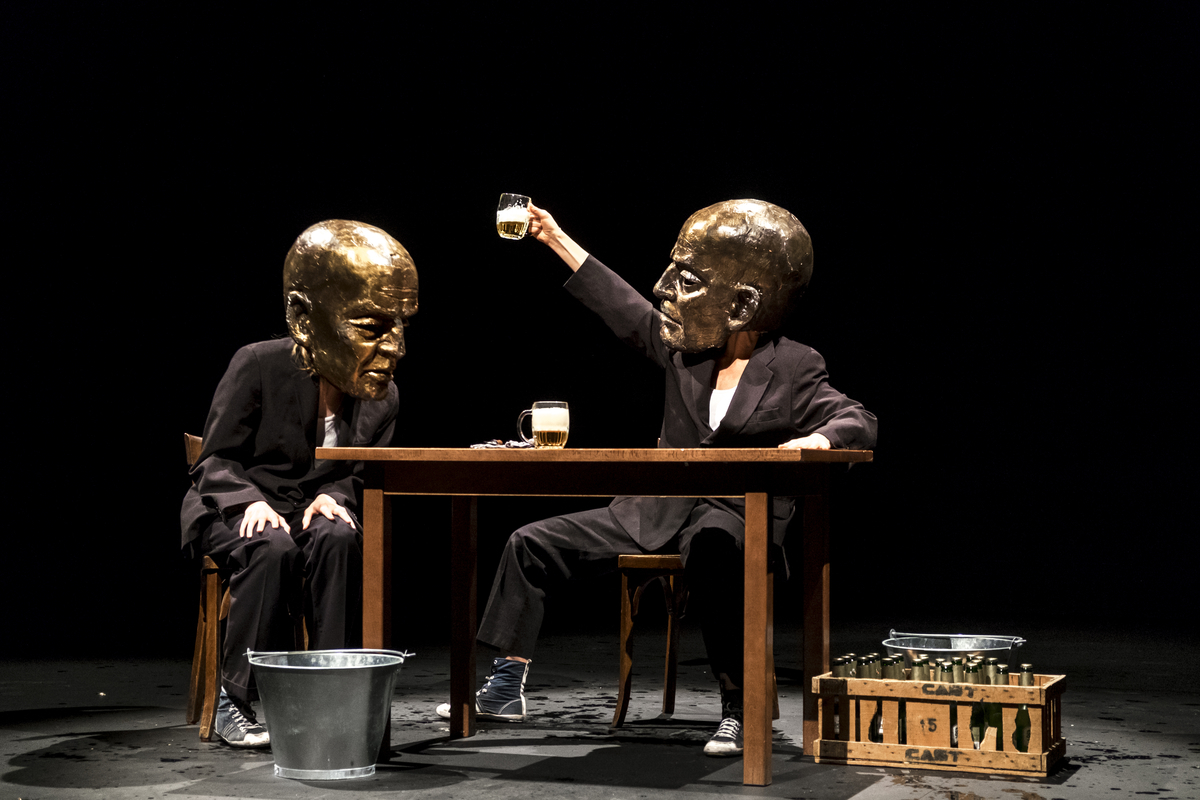 A voice-over in Czech with Spanish and English subtitles delivers surreal cut-and-paste lines from the original play.  Espionage and deceit, profanities and confessions.
Tension, duality and the struggle to overcome our limitations are important themes for Spitfire Company, explains Tereza Havlíčková, manager and performer, when we met yesterday afternoon at Barcelona's Sala Hiroshima.
"We aren't acting that we're getting drunk, it's real beer and we really are struggling! The physicality comes from our emotions; it comes from inside us which makes it truthful." The beer represents something different to different people, but for Havlíčková it's the manipulative element of the communist regime.
I must admit there's something slightly unnerving about watching these girls lift their head mask, down pint after pint of beer, and put the mask back on with an inevitable belch. "Have a beer!" declares the brewer, time and time again. I catch my own inner dialogue getting louder, diverting my attention from the visual and textual narrative, and remember Havlíčková's observation.
"Theatre allows you to open your mind more, it enriches you a lot. Even if it's an abstract piece which you don't understand, like many modern theatre pieces including ours." Antiwords is more than a show, it's an experience which invites the audience to connect with the undercurrent of the performers' emotions and flow wherever it takes them… perhaps even refreshing the parts that other experiences cannot reach.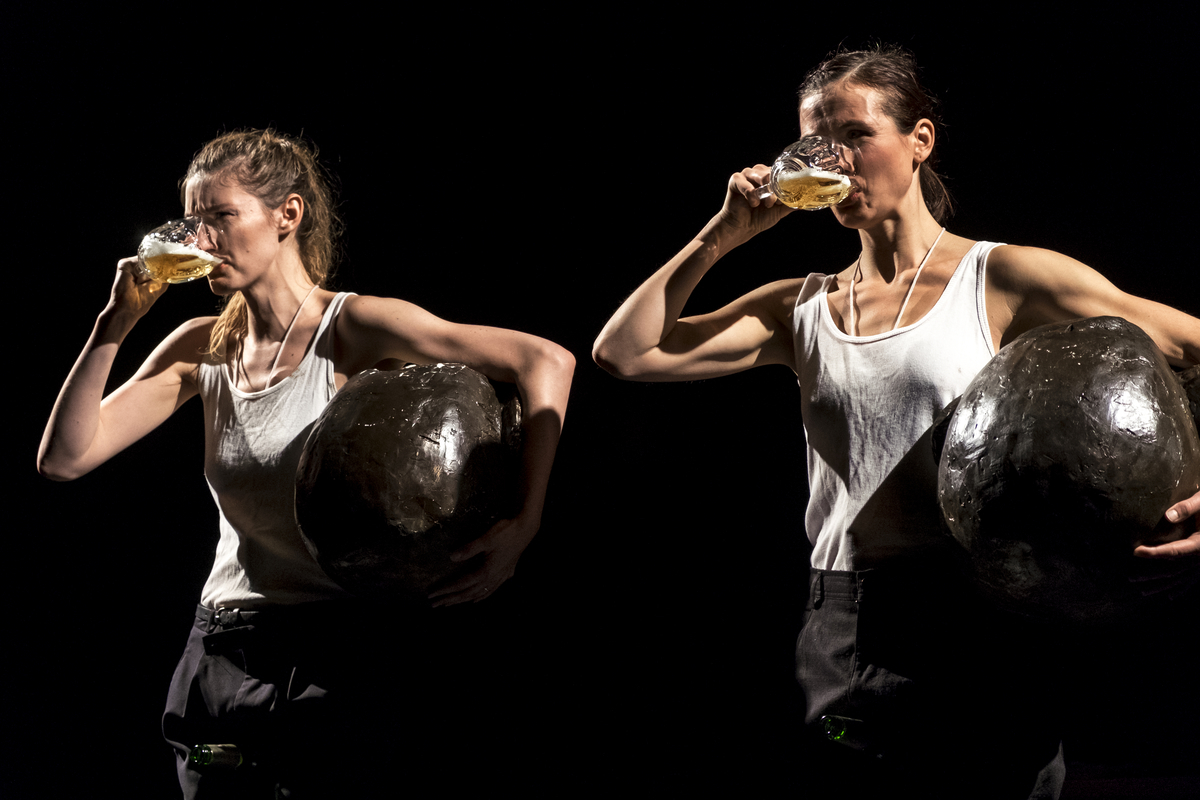 Although an inevitable hangover makes the second night harder for the actresses, says Havlíčková, this sometimes inspires an even more existential performance as the struggle they express through their art is being experienced even more strongly within them.
Spitfire Company is one of the most groundbreaking artistic platforms for physical theatre and dance in the Czech Republic, and the only company to be touring with 7 performances around the world. Antiwords emerged when they were asked by the Czech embassy to reinterpret one of Havel's plays for a festival in Washington DC, in 2013.  More than just an intellectual and playwright, Václav Havel was also President of Czechoslovakia from 1989-1992, and the first president of the Czech Republic. Antiwords is a powerful response to both his legacy and to Czech culture, and has successfully toured in places as diverse as Berlin, Beijing, New York and Milan.
Catch their last night at Sala Hiroshima at 22:30 tonight, 4th December.
C/ Vila y Vila 67, Barcelona (Metro: Parallel.)