Se dice que el apocalipsis es inminente, pero qué matices va tener? The Glowing End de Javi Corellano ofrece una visión aguda y perceptiva sobre temas contemporáneos, pero también se infunde con una cierta compasión. Imágenes poderosas, criaturas destacadas,  colores intensos… esta exposición pide reflexionar.  Nacido en Barcelona y de vuelta de San Francisco después de tres años, nos cuenta sus inquietudes, el contraste entre las ciudades, y propuestas para mejorar las oportunidades para los artistas locales en Barcelona.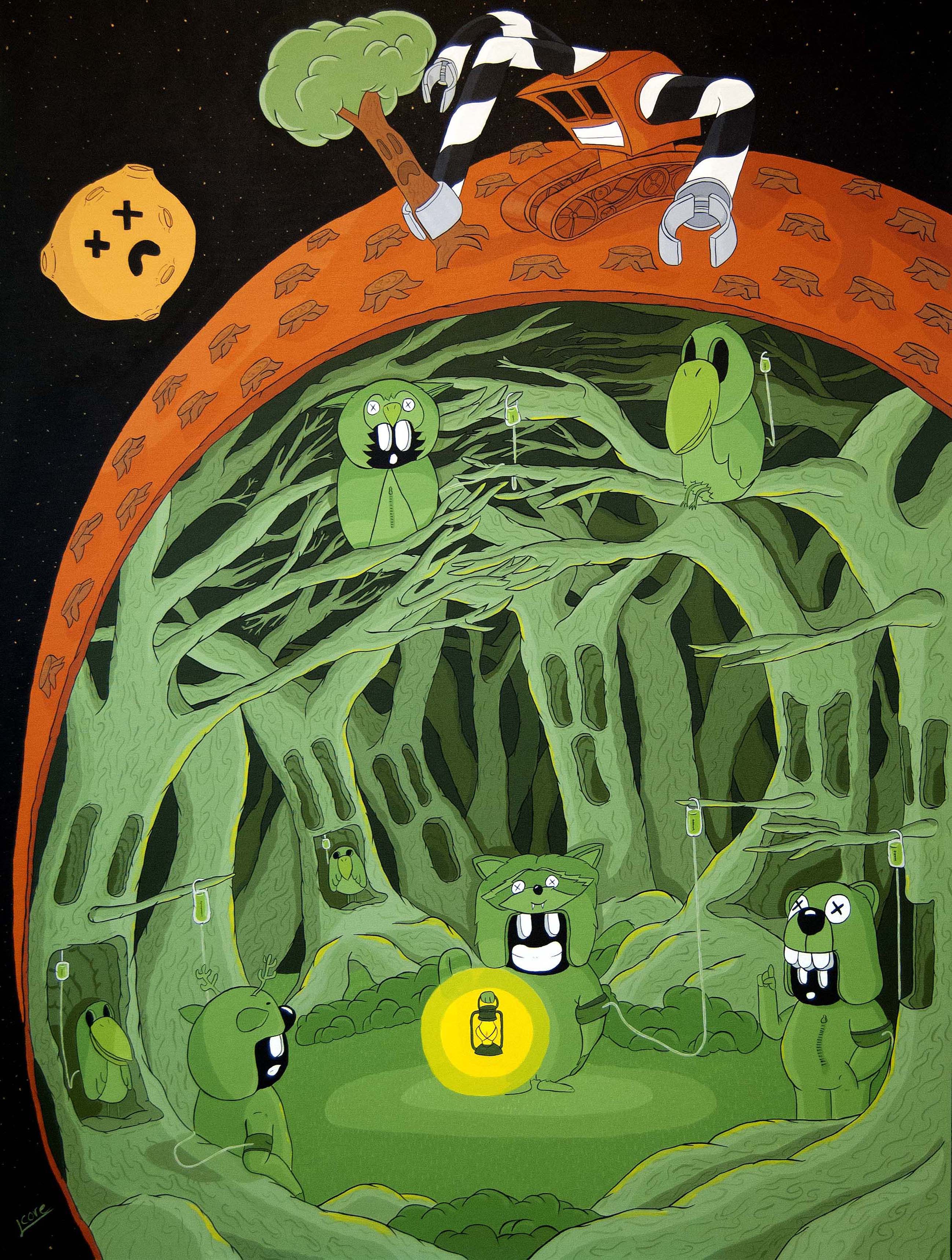 ¿Cuáles son los cambios más fuertes que notaste en Barcelona a tu vuelta?
Recuerdo cuando fui al centro y casi no vi a nadie de Barcelona, todos eran turistas. Hay el tema del coste de la vida, los alquileres, que ha cambiado de manera bastante radical en los últimos cuatro años. Yo me fui un poquito cansado, estaba estancado. Pero ahora he vuelto enamorado de la ciudad. A veces hay que ir fuera para valorar lo que tienes. Iba en moto por la ciudad y alucinaba por lo bonita que es Barcelona.
Tiene muchas capas Barcelona… es fácil desilusionarse con el rollo más superficial, pero luego encuentras muy buena gente, proyectos artísticos y colaboraciones que son más underground.
Exacto, son mucho más underground. En Barcelona hay muchos artistas con mucho talento que todavía no han conseguido despegar porque no reciben el apoyo.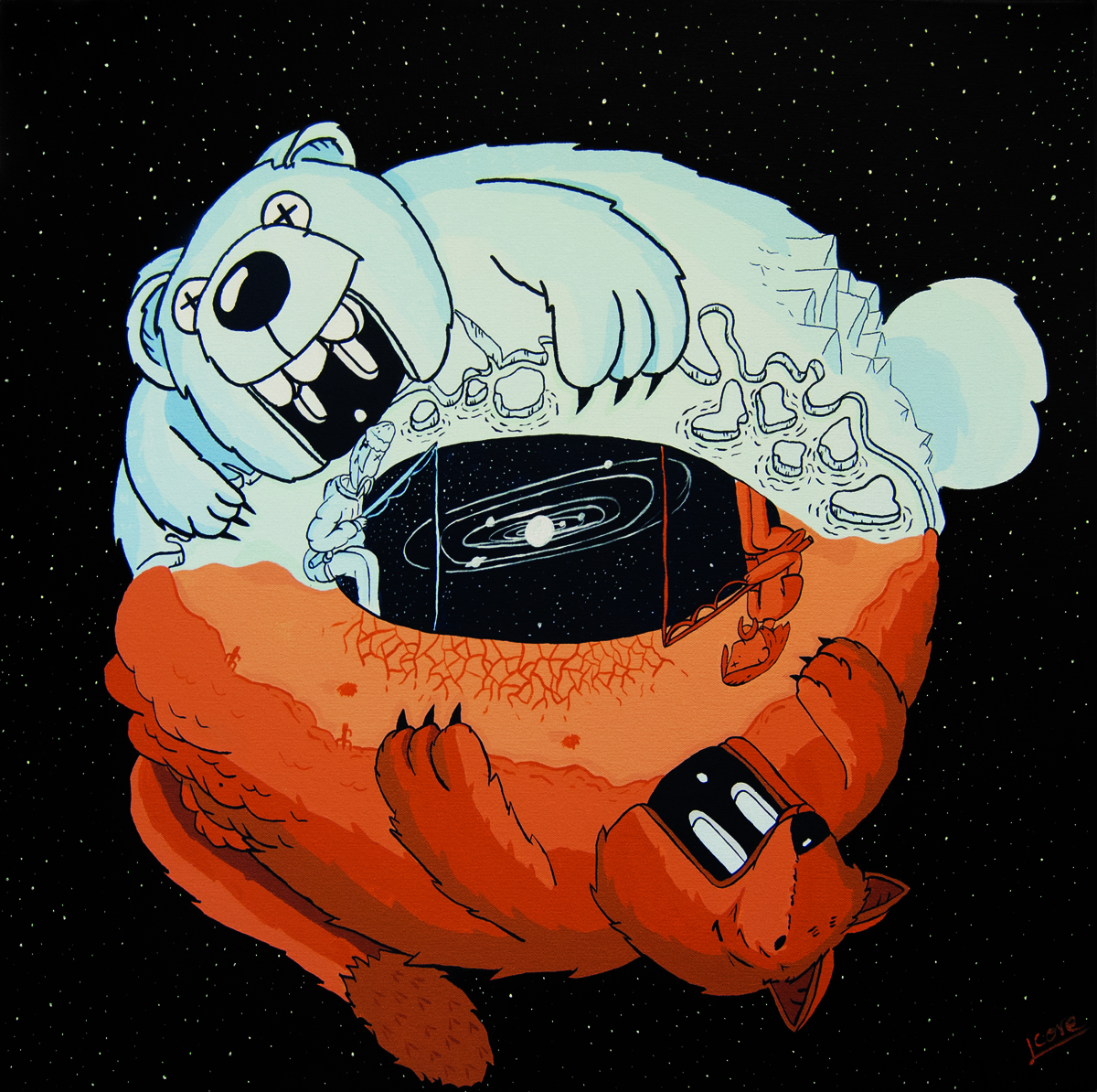 Qué tipo de apoyo crees que la ciudad debería ofrecer?
Creo que el artista necesita sobretodo espacio para exponer. El Ayuntamiento podría facilitar espacios, así el artista podría enseñar su obra y tener visibilidad. Al final el artista necesita tener exposiciones y que le vean.
Actualmente la mayoría de espacios son independientes, como el Mutuo, Artevisas, Hell Gallery…
Totalmente. Yo lo echo mucho en falta. Por ejemplo, en los Estados Unidos – hay cosas muy malas allí, por supuesto – pero a nivel de arte hay más apoyo, al menos en California. He traído ideas para intentar implementarlas en Barcelona. Por ejemplo, allí dieron una residencia a Jeremy Fish, un artista local, dentro del Ayuntamento. Él estuvo allí trabajando, representando con su estilo partes de la ciudad. Eso me ha impactado y es un proyecto que estoy intentando traer a Barcelona. Eso es el tipo de apoyo que sería interesante.
¿Cómo lo han recibido los políticos del Ayuntamento de Barcelona? ¿Están abiertos a esta propuesta?
Yo me he reunido con ellos y no avanzó nada. Se quedó allí…
¿Qué motivos hay por este bloqueo? ¿Es una cuestión burocrática o de presupuestos?
Hay varias cosas. Creo que obviamente la gente que trabaja allí va con mucho trabajo, y cuando tu le vas con algún proyecto les parece que igual les estás poniendo más trabajo y no ven la oportunidad. No lo sé, pero me gustaría mucho que el Ayuntamento de Barcelona ayudara. Yo tuve que irme de aquí para encontrar espacio para exponer, y me gustaría que los artistas locales pudieran encontrar más posibilidades aquí… es una pena que el talento se marche y se quede fuera.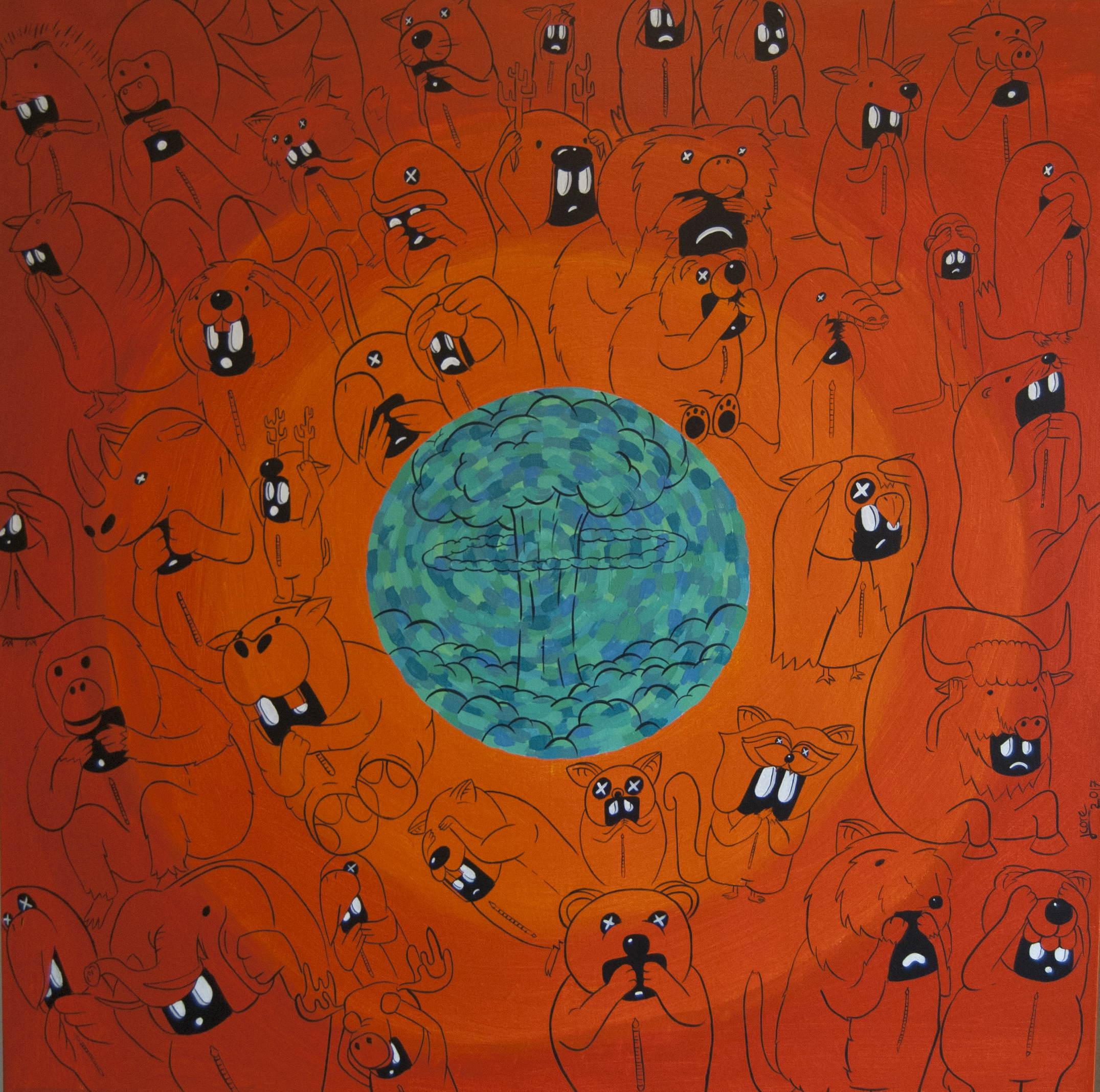 He hablado con varios artistas y con artistas que opinan que Barcelona está más interesada en el dinero que viene de fuera y en el turismo que en apoyar a los jóvenes y emprendedores aquí…
Aparentemente. Lo que he sentido es que es un discurso más progresista, por un lado. Se hacen cosas en Barcelona, pero creo que tenemos que aprender mucho de otros lugares, en dar visibilidad a artistas locales, a seguir experimentando y trabajando aquí.
¿Qué otros detalles te han impactado en las diferencias entre el ambiente de arte contemporáneo en San Francisco y aquí?
Es cierto que hay mucho más dinero público y privado allí, con Silicon Valley al lado. El concepto de comprar una obra de arte, llevártela a casa, y apoyar a un artista es algo que tienen más integrado. El hecho de que salgo un sábado a pasear, a ver si encuentro una pieza de arte que me guste, y me la llevo a casa. Hay muchas galerías y mucho movimiento. Es curioso porque en siglos anteriores es Europa que ha tenido una grande cultura del arte. Pero allí, a día de hoy, están más involucrados, por ejemplo cualquier gran evento que hay siempre tiene una parte dedicada al arte, como una zona donde pintar murales. Están más involucrados en cualquier cosa que hagan.
Hay quien ha comparado San Francisco y Barcelona. ¿Tú lo ves?
Sí, hay una vibración parecida, las dos son ciudades enfrentadas al mar, y por otro lado, tienen unas colinas, así que no pueden crecer más. Son ciudades muy abiertas, San Francisco como origen de los hippies…
Cuéntanos algo de tu exposición actual
Algunas de estas obras vienen del trabajo que hice en San Francisco que se llama The Charming Apocalypse… es un poco como me siento con el tema histórico.
Veo mucha consciencia social en tus obras… y estos ojos cruzados, que se repiten en varios cuadros… ¿Qué representan?
Los personajes han ido evolucionando en mi trabajo, y siempre he utilizado estos entes, o animales, que por un lado representan que todos nos disfrazamos en alguna manera para vivir en esta sociedad. Por otro lado, representa que no dejamos de ser animales en el mismo planeta. La idea atrás es que la gente esté disfrazando a un animal que está muerto en alguna manera.
¿Cuáles son los temas que más te preocupan últimamente?
Como tratamos el planeta, la contaminación, el calentamiento global y otros temas inmediatos como la preservación de los animales y el mundo que dejamos para las siguientes generaciones.
¿Sientes una cierta responsabilidad de usar tu arte para expresar estos sentimientos y preocupaciones, más que hacer un arte decorativo?
Sí, yo personalmente creo en el artista como representante del mundo en el cual vive. Por otro lado, estos temas me salen de dentro, no podría hacer otra cosa que no fuera eso, pero sí que hago alguna obra más decorativa porqué también necesito un respiro. Me gusta tener un dilogo con el espectador y traer su atención al tema en el periodo en que esté delante para pensar en lo que ve, reflexionar en manera más o menos sutil.
¿Con qué te gustaría que se quedase el espectador?
Me parece ya interesante que vengan a apoyar y valorar el arte local. También que hayan reflexionado sobre lo que ven.
¿Hay algunos artistas o músicos que te han influenciado particularmente?
Muchos, como Robert Williams en California, o artistas activistas como Keith Haring , y otros que me gustan a nivel estético. A nivel de música me gusta mucho la música indie, va muy a épocas. Llevo una semana con The National, y la otra semana estaba muy con Thom Yorke y Radiohead que siempre me encantan. Hay una obra en esta exposición que se llama Karma Police, que tiene un poco esta temática.
The Glowing End se puede visitar del 13-22 julio en el Nasty Garage, Pujades 43