Sala Hiroshima continues to steadily carve a niche as Barcelona's most exciting venue for the performing arts and contemporary creation. Its second summer has welcomed rising national talent, live DJ sets, and a one-off performance by the Montreal based dancer and choreographer Dana Michel who is making international waves with her latest show Mercurial George on the 11th June. Dana arrives in the venue's bar looking fresh, athletic and poised, and we embark upon a whirlwind conversation about the nuances in her work as a black woman, spirituality and punk, and her influences from art to hip-hop.
If identity is a cut n´paste collage of cultural influences, Dana explains that her early works focused especially on her relationship to sexuality, gender and the perception of her own body. Through this work, she met many people who allowed her to further that conversation and put certain doubts to rest. They still bubble up, but not in a way that begs to be addressed. "My recent bubble is my blackness, and I'm working with this now," she shares.
So who, or what, is Mercurial George? Dana pauses a moment, contemplating the question. "I think it's more of a who." The solo show she presents tonight is a continuation of her first piece Yellow Towel (2013), which was the first time she took on the subject of what being a black woman means to her. This was a big undertaking, as she admits it was a reflection she had long been avoiding in an insidious kind of way. It was also response to the feeling that since whatever work she presents evokes some reference to her race and culture, it was time to look at it from her perspective for once, and feel out her own opinion.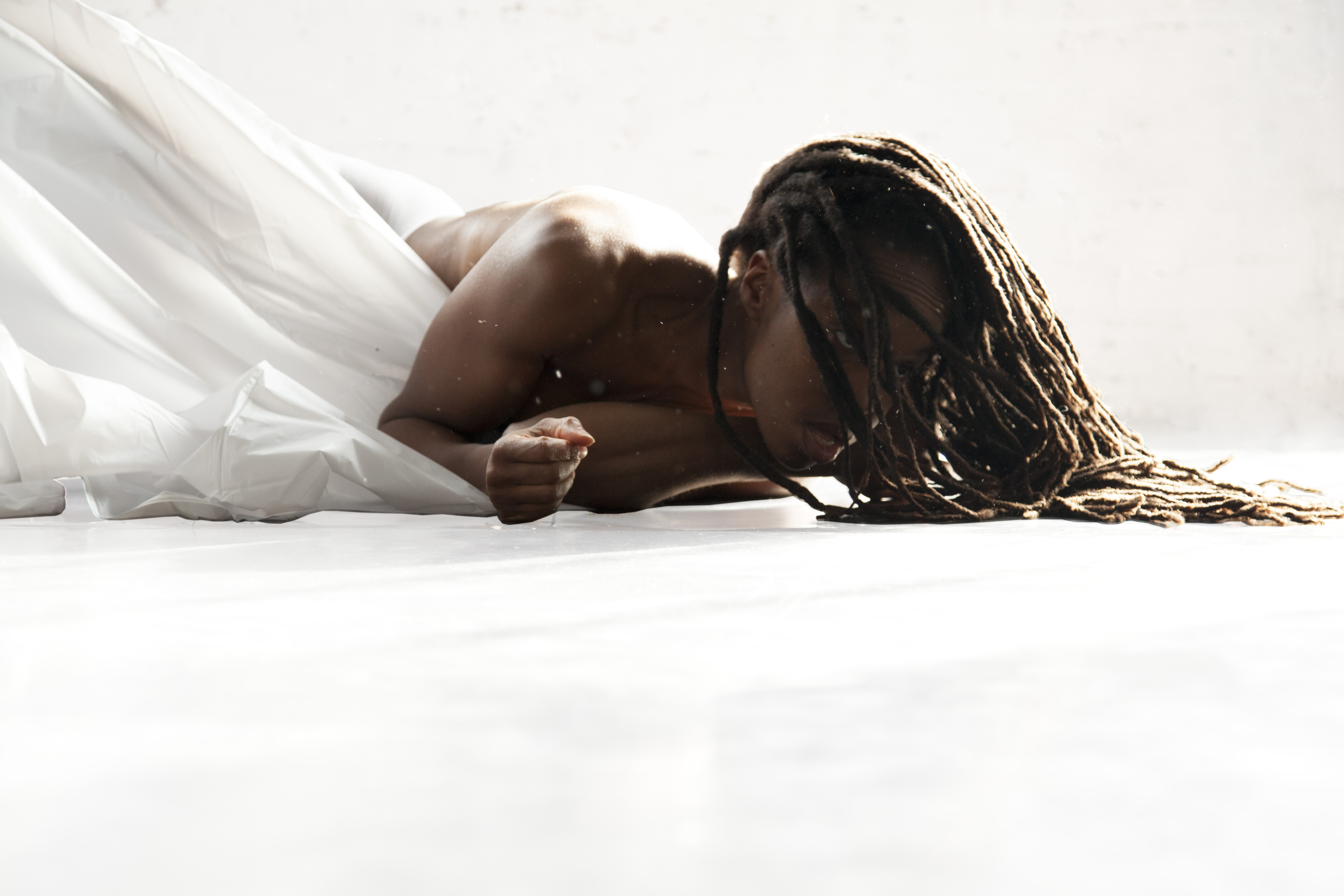 What did she find? "I'm aware this filter exists. I definitely didn't dig as deeply as I thought I might. In a way it feels like I flirted with very surface issues, but actually the roots go deeper, and I'm not even sure where I dug." Tentatively touching on her parents' Caribbean culture, shakily reaching into a bag of personal history including the American lens many people perceive her through – which both does and doesn't belong to her –  many elements were drawn under the lens. If Yellow Towel was her first nervous, shy foray, Mercurial George finds her more centred and going deeper into black identity.
Yellow Towel was extremely well received by international critics, the New York Times named her as one of the top female choreographers of the year, as well as scooping the Impulstanz Award (Vienna) for outstanding artistic accomplishments. "I think it was a question of timing with current events. It coincided with awareness of police brutality and a resurgence of looking at racism. In the past few years there's been quite a jump in our understanding of how people are marginalised, what that does and how we as a society can shift to be more inclusive. I was taking my own personal approach," reflects Dana, who attributes her somewhat leftfield approach and "virginal eyes" to an unusually late start as a dancer.  In her mid twenties, she was working in marketing and studying business, which somehow didn't feel quite right.  A trip to Europe in 1999 coincided with discovering dance music and the rave scene.  Suddenly the doors of perception were blown off their creaking hinges with the realisation that she didn't need to settle into the expectations that had previously lined her path. "I carved a fantasy – what if I could live this freedom and joy in my everyday life? I found a course in contemporary dance at the University of Montreal and applied. I thought it would just be a parenthesis in my life, but there was no going back," she grins, with a sparkle in her eyes.
I take a risk, and ask whether she resonates with the spiritual philosophy that we are born with a true soul identity, but by incarnating into the dense frequencies of this planet, with all its social and cultural conditioning, we forget what this is… and that life is a journey of remembering and finding our way to shine from this essence. She looks slightly startled. "Absolutely. I don't know what to say other than absolutely," and asks me to repeat what I just said.
"I feel it's a constant gentle awakening throughout your whole life," she muses, "and it feels really good to accept it as a lifelong adventure and not as a goal I will necessarily attain in this lifetime. For me, the scariest thing in the world is the idea of reaching a final discovery end point. I revel in the constant questioning and shifting of positions. In Mercurial George it really feels like I'm looking at all the pieces of the puzzle, and not totally knowing where they fall." The performance embraces another kind of knowing, using a language of the body that is based on emotion and memory rather than the cognitive mind.
Do you think it's fair to say that most people live in their mind and are pretty from detached from their body? "For sure. I already know this is a big challenge for me off stage. In performance, I'm finally able to get quiet, slow down to my own personal rhythm and to listen and connect with myself. It feels like a huge privilege to be able to touch that." I ask whether there's anything she'd like people to take away from seeing her performance which they can integrate in their own lives, rather than just being entertained for an hour.
"I'm constantly repeating this, but I feel it's so important for people to have their own space for reflection." Dana recalls one of those magical 3am moments when the freedom she felt onstage accompanied her home. There was nobody around, and she sang along to some music outside the front door. "I'm so lucky to have moments of escape from the social norms. Society tells us how to walk, where to look, but it's so confining. We really need to find our own way to escape from how we're supposed to do things, let it out instead of walking around like little self-contained bombs." She was slightly startled that at least 5 or 6 people cried in her arms after just 4 performances of Mercurial George. Yes, art can create a safe space for some kind of catharsis. It's not her aim, but it's worth recognising and is definitely related to her goal of offering space.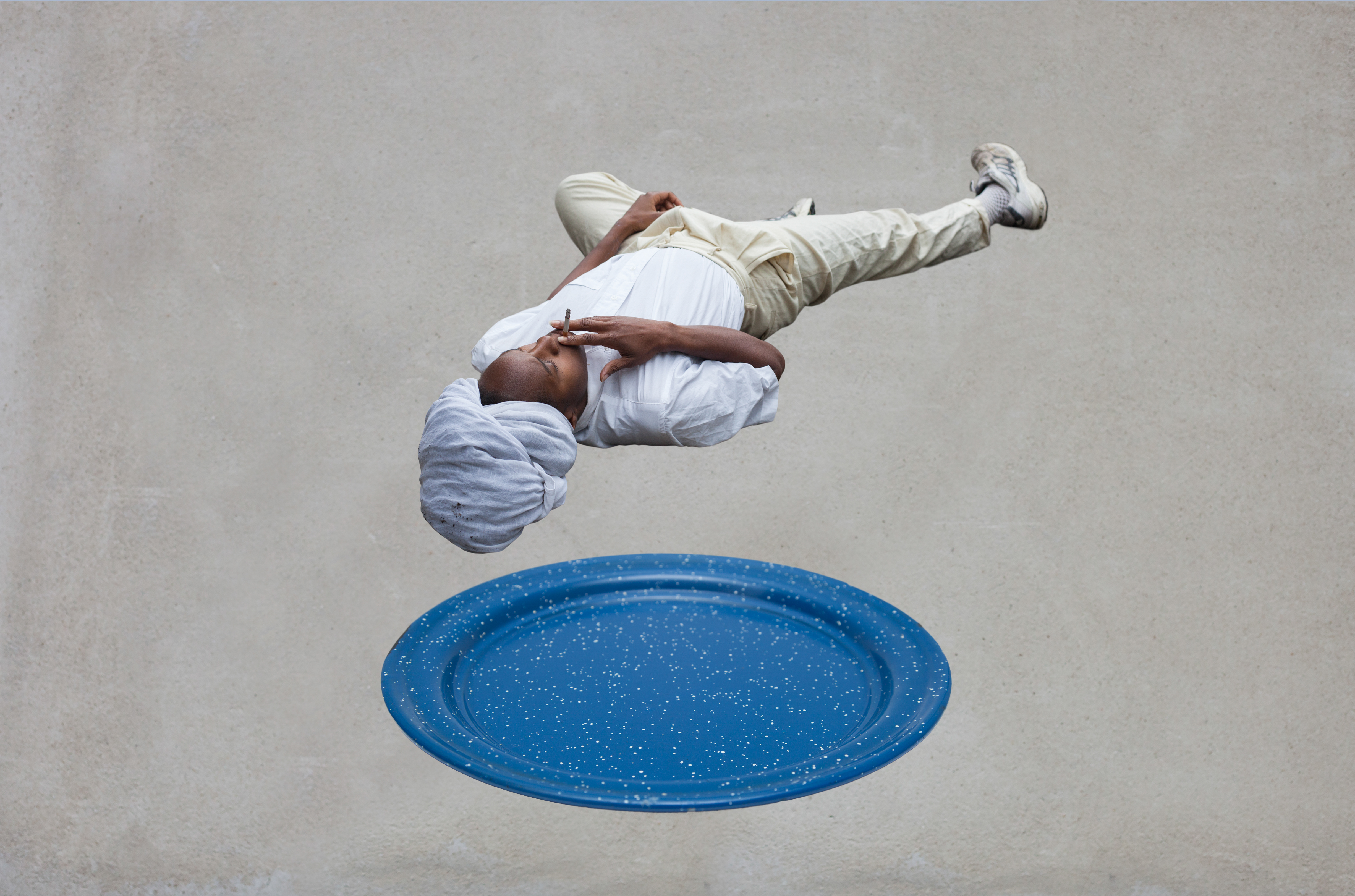 Who inspires her most – artists or activists? Dana laughs. "I wouldn't prioritise one over the other. I would say it seems they are very intertwined. Maybe art, because there's more space for me in the art that I really connect to. What I love is its infinity and spiral of its potential for it to be activist work, dream work, escapism, education… For me the beauty of art is its potential to be all kinds of things." During the making of Mercurial George she was especially inspired by the David Ulrich, currently based in Hawaii, and the figurative painter Peter Doig, in Trinidad. One tableau in particular by Doig influenced Mercurial George, a painting she describes as a hyper-Canadian and hyper-Caribbean mish-mash. "These artists' works seem really simple and down to earth, but the outcome of what they're trying to do is so fantastical, reaching so far, and it unearths such memories and consciousness," she reflects.
What tunes is she enjoying at the moment? "An artist I've discovered recently is Bonnie Banane, a singer based in Paris who is writing and making music that's so good!  I love it when we can see someone's memories and ideas on their sleeve. It's like a very beautiful collage." Then there are the hip-hop artists. Dana admits to being hooked the album Madvillainy. "It's by a rapper who uses language a way that's so funny and easy, and he's working with a producer who is so in control. The obsessively juicy beats and samples, and freedom to really play with language is so inspiring."
With so many powerful influences swirling in her cauldron of creativity it comes as no surprise that the dance critics sometimes say they need more clues to understand what she's doing. However, young people seem to get it intuitively. "With an audiences between the ages of 10 and 20 there's no question, they just connect to the feeling of my work without analysing it," Dana shares. This almost anarchic undercurrent of her work prompts me to suggest she visits the current exhibition on Punk at the MACBA during her stay in Barcelona. Her eyes light up. "Oh, are you kidding?! Mercurial George was spawned from this poster I had in my kitchen of a dancer in an 80s punk band, wearing a big white t-shirt and white gloves." Over the past couple of weeks she has been thinking about what the performance means, and came to the realisation that if Yellow Towel was her naïve and superficial touching of black material,  then Mercurial George feels like the punk piece in which she touches an anarchist punk energy in relationship to this subject matter. I get the feeling that the rising talent of Dana Michel has a long way to go, and it's going to be an interesting journey to follow.