Ok Arteria Gallery, you have officially nailed it as one of the coolest cultural melting casserolas in Barcelona. Maybe we should keep quiet about this in case the word gets out too far and this glorious star booms out into a red giant on the brink of collapse like the bunkers of Carmelo, my remote secret spot previously known only to the dog walkers in Guinardó park and local teenagers with their cheeky cartons of Don Simón, which has now become a must-see Instagram hit where hundreds of students keep the cerveza-beer-amigo? guys who followed them there busy. Rant over. Here's to evolution, you unpredictable little minx, and back to the weekend of 18th-19th November that was BA-NA-NA Brazilian Festival, featuring Art Lover Ground and Massafera Sound System.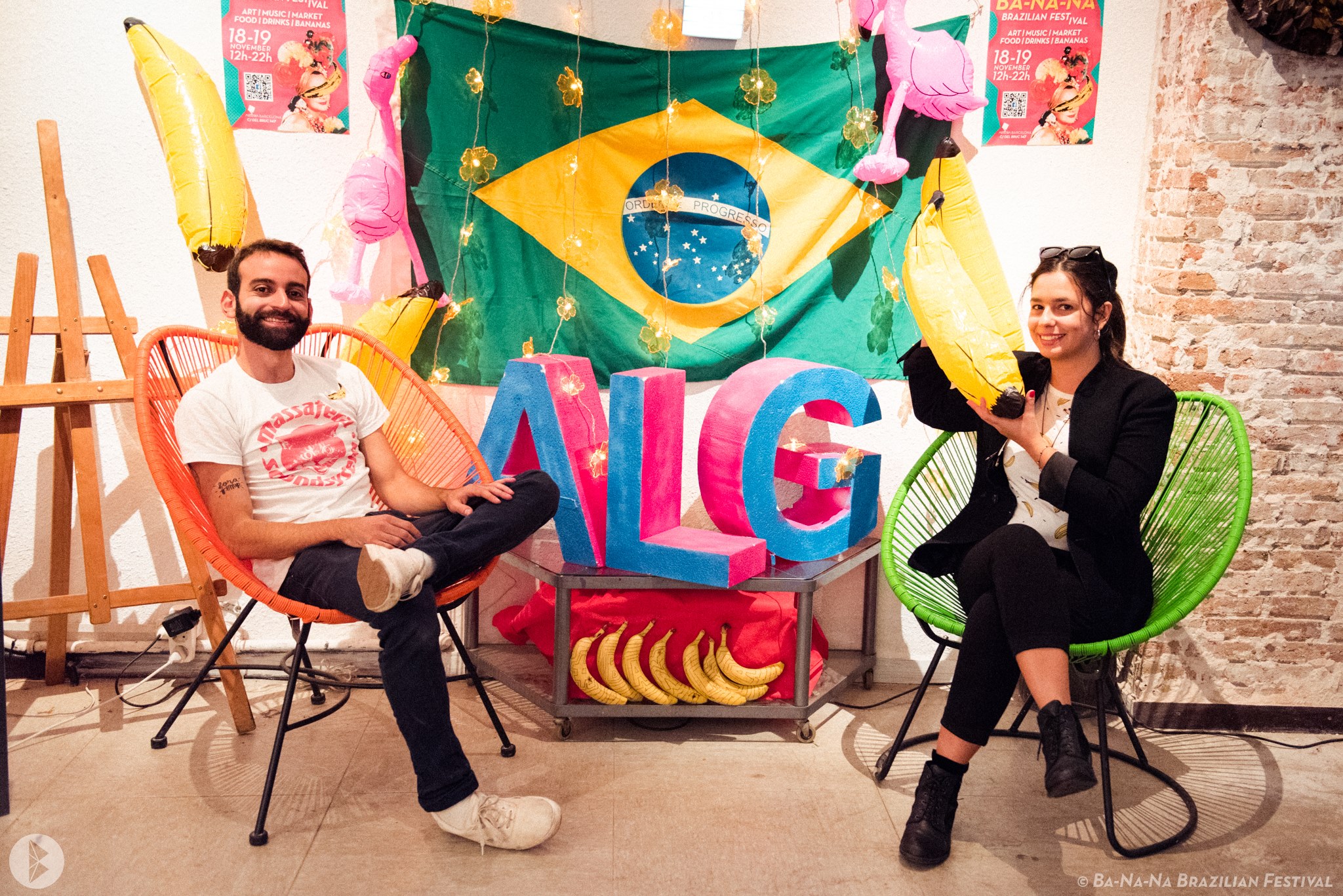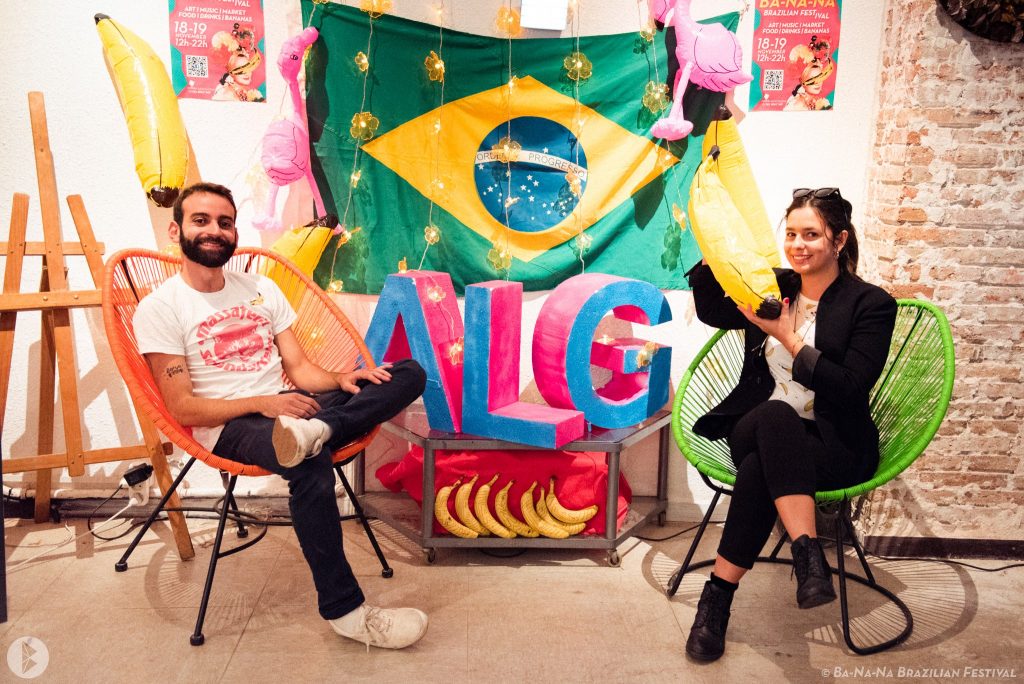 It's Saturday morning. We stepped inside and were welcomed by an installation with the iconic Brazilian flag and two coloured chairs that suggest an intimate yet colourful get-together. The music was already riding on each molecule in the room, stereo beats whispering of the live action that would follow later in the evening.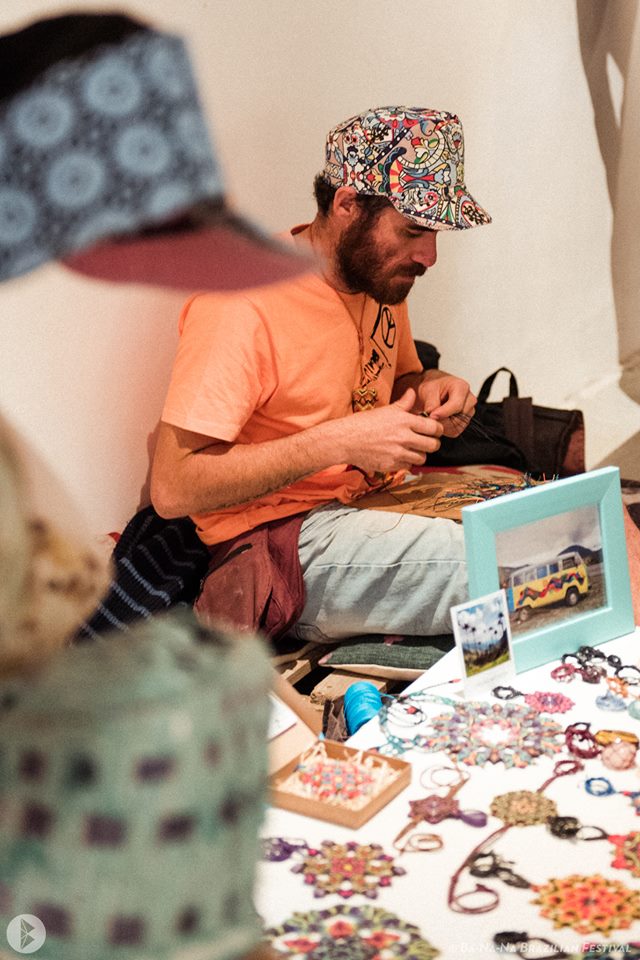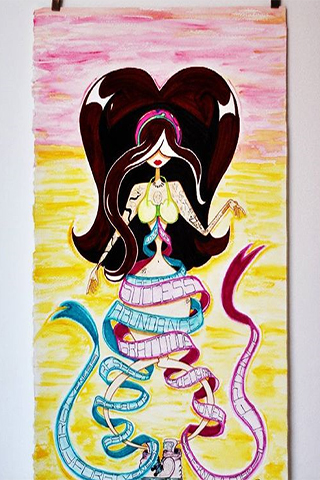 One of the many highlights of the crafts market was the hand-crocheted mandalas by Paz na Natureza. From wall hangings to earrings, if each thread that was involved in any of these intricate designs could tell a story it would be brimming with archetypal and colourful twists. Next up, Hallo Gallo jewellery, created using powdered crystal mixed with water and set into moulds that create edgy earrings and necklaces. Meraki Design offered colourful children's t-shirts and cushion covers with quirky designs that just made us want to smile and be five years old again.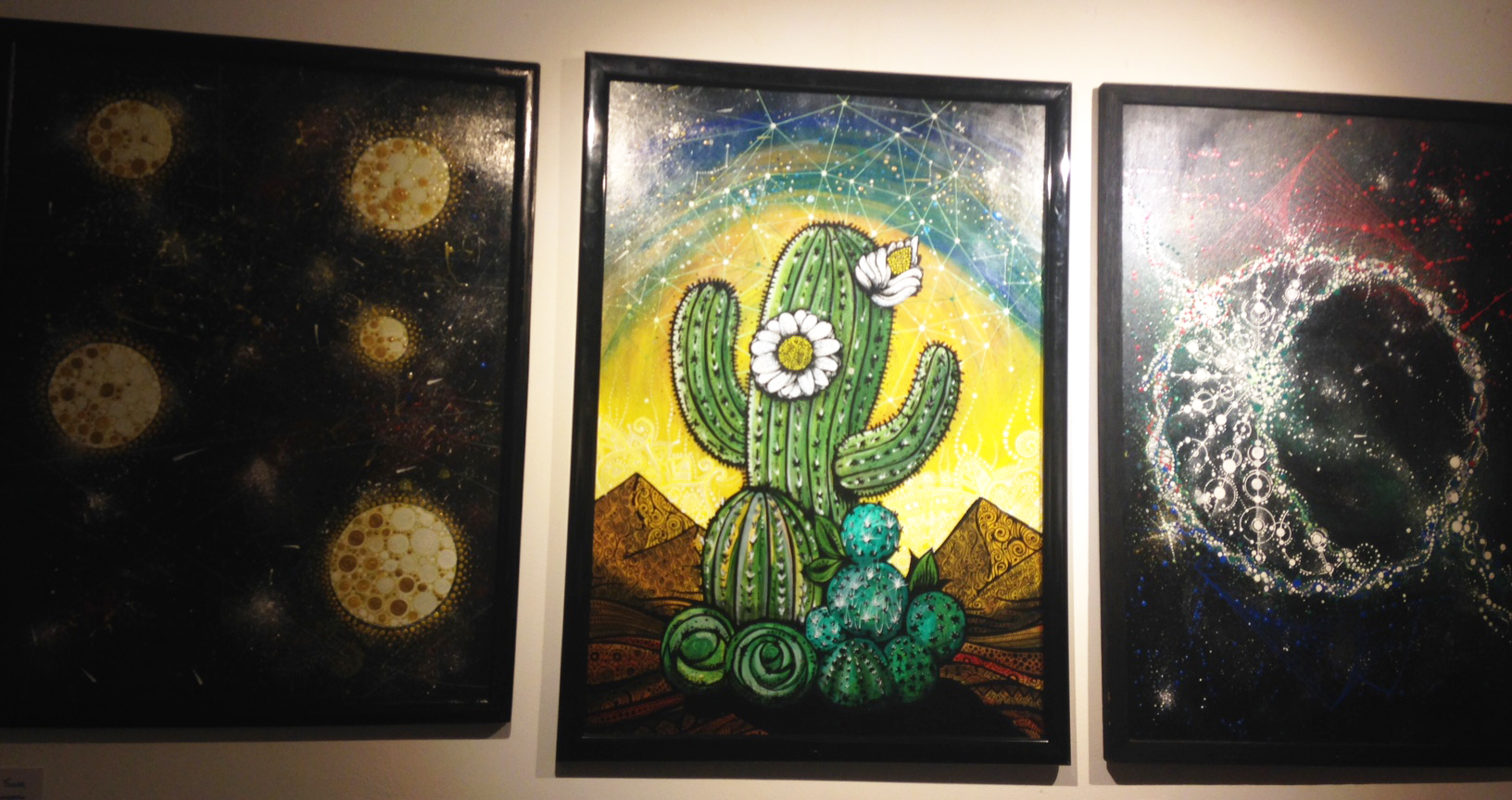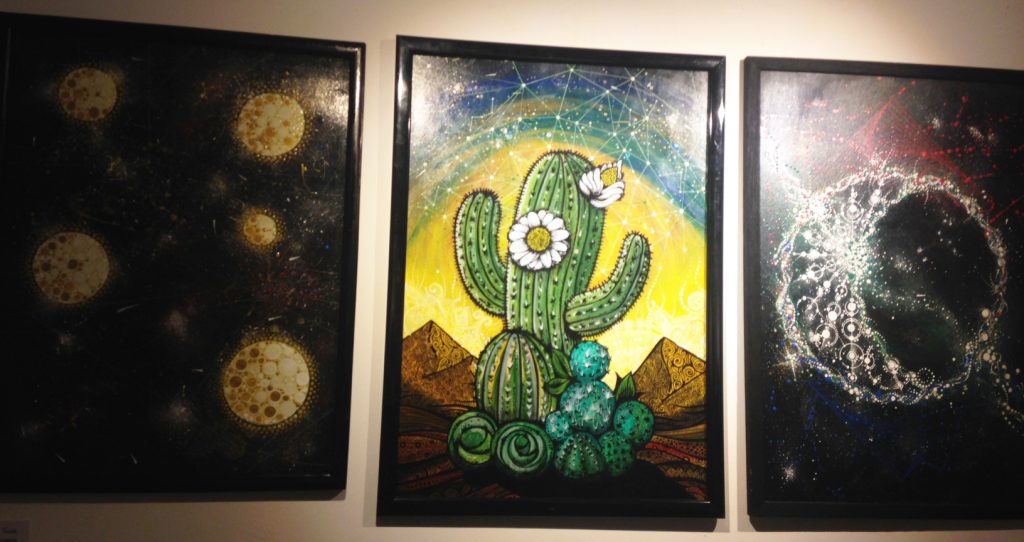 Jean Olivera's Mandalize It vibe sparkled through three pieces exhibited here, a small taster of a more extensive collection of work shown a few weeks earlier at Art Lover Ground. Worlds within worlds. Infrastructures behind infrastructures that intimate many more dimensions beyond the painting's frames. We look forward to finding out more and speaking with Jean soon.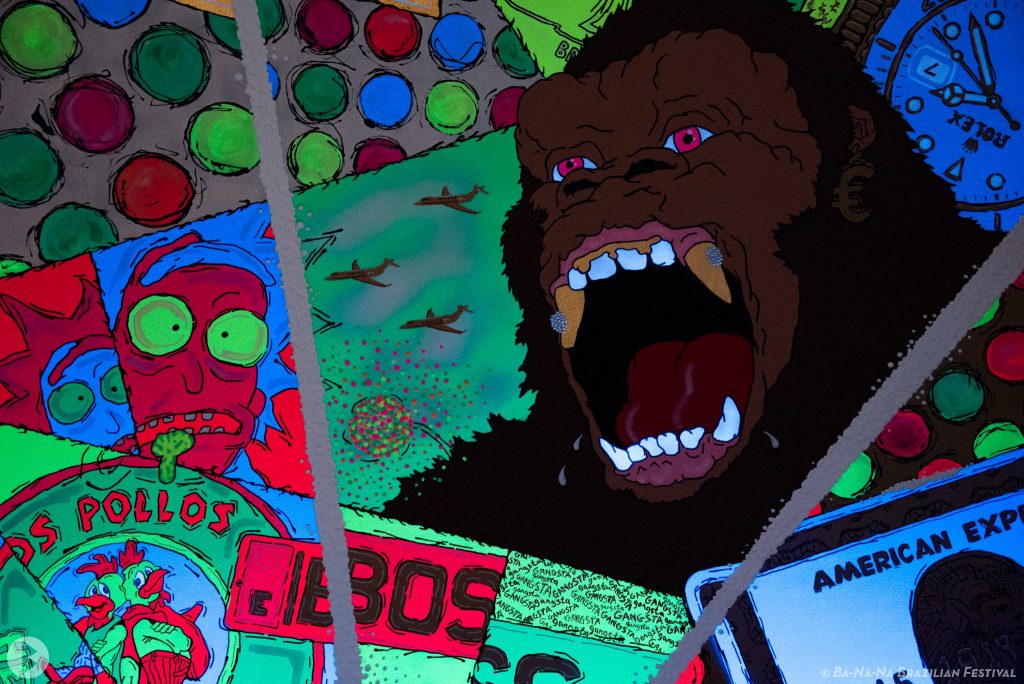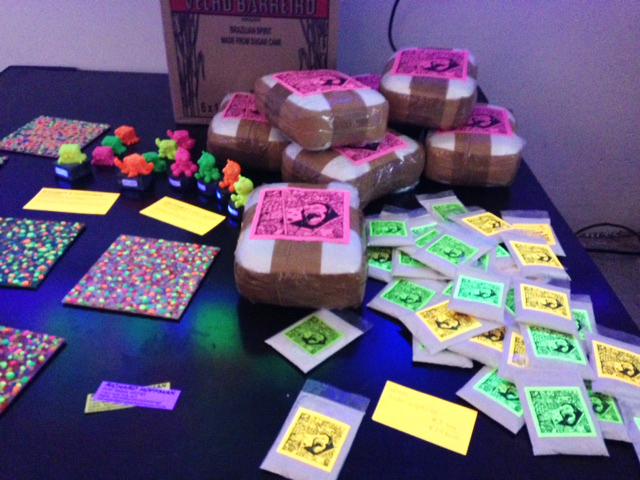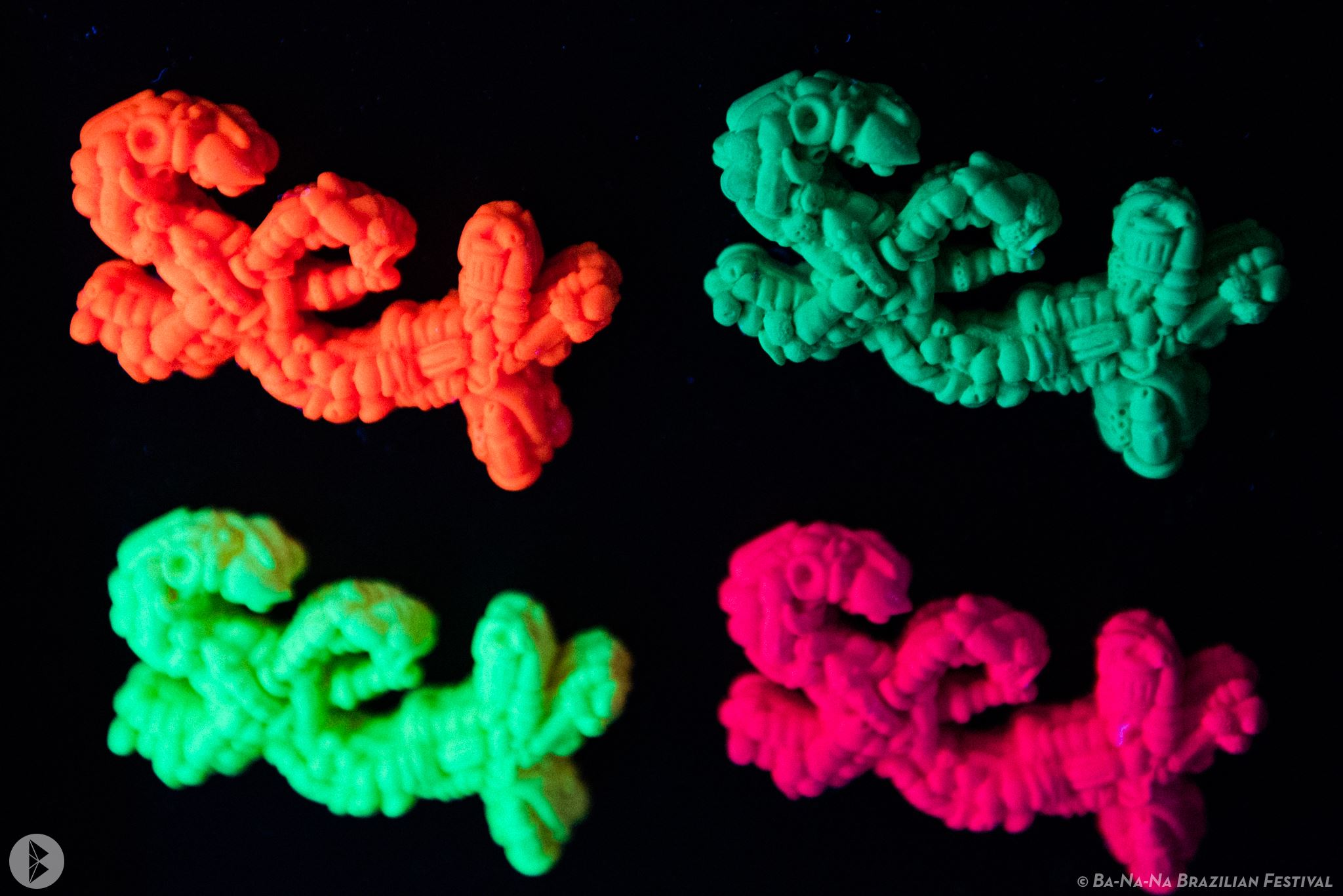 Also riding the psychedelic wave, Richard Hoffman's (two "f"s and one "n"s, but yeah…) neon lit UV invitation through the doors of perception included fluorescent polka dot coloured tiles. "I mean, if someone wants to put them in their bathroom they can… but I'm not selling them as bathroom tiles. No way," he states. A leering King Kong looks down on the packages and baggies of Kong. "I used a kind of plaster and found out how to make the packages look right on the deep web", Richard explains. The conversation turns to international art buyers, and we agree that whilst this is exactly the kind of experimental installation that someone like Liam Gallagher might snap up for several thousand in New York, the Barcelona scene is somewhat different.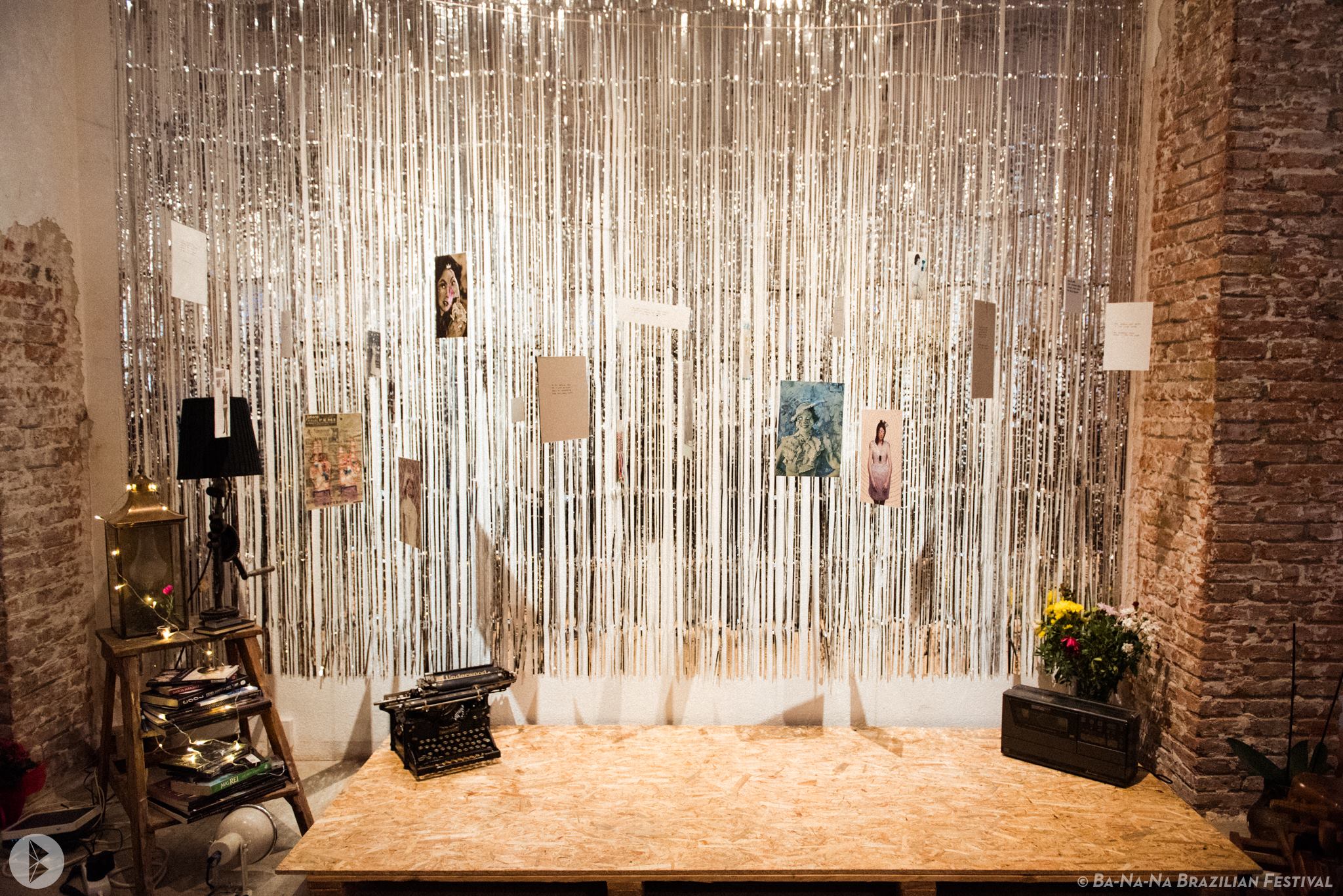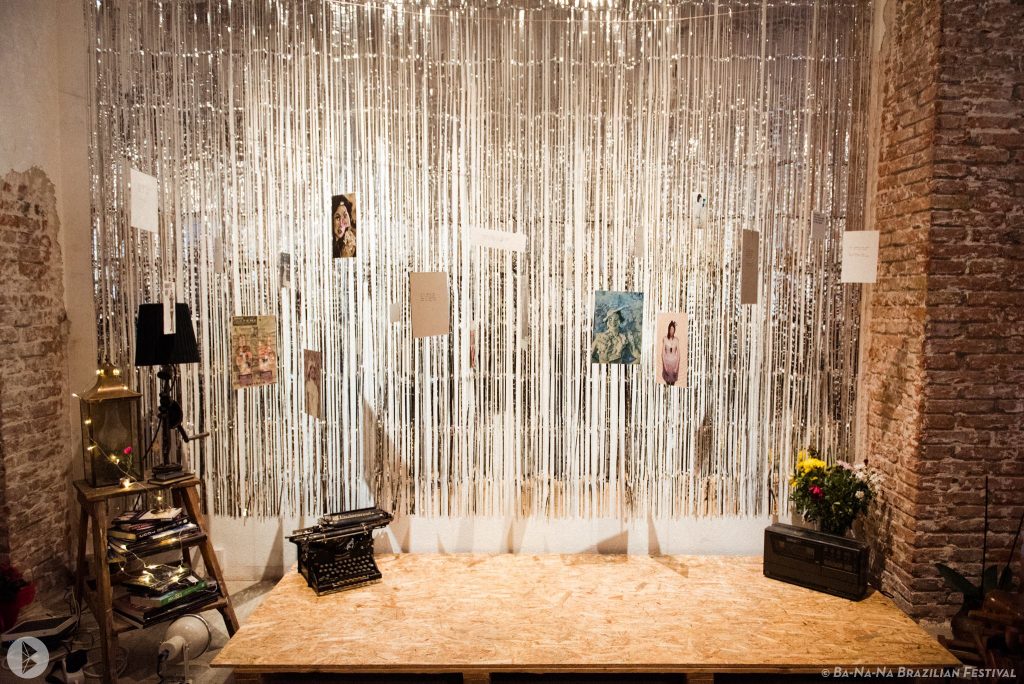 Simplicity and elegance. Lines and colour. Spatial dimensions on 2D canvas. Tuike Souza sits below her paintings which leave a lasting impression. Vamos a la playa. Illustration by Oner and Bubu's exquisite fusion of imagery with inspirational phrases. Collage is one of the most accessible and powerful mixed-media formats, and Livia Fioretti explains that she has literally hundreds of pieces in her home studio. "I use old postcards, flyers, pages from magazines… moments from my day captured through the images and accompanied by a phrase which I write on the back, in Portuguese, English or Spanish." A few dozen of her creations hang from the ceiling creating an eclectic installation, like a mirror that reflects fragmented instances of a life.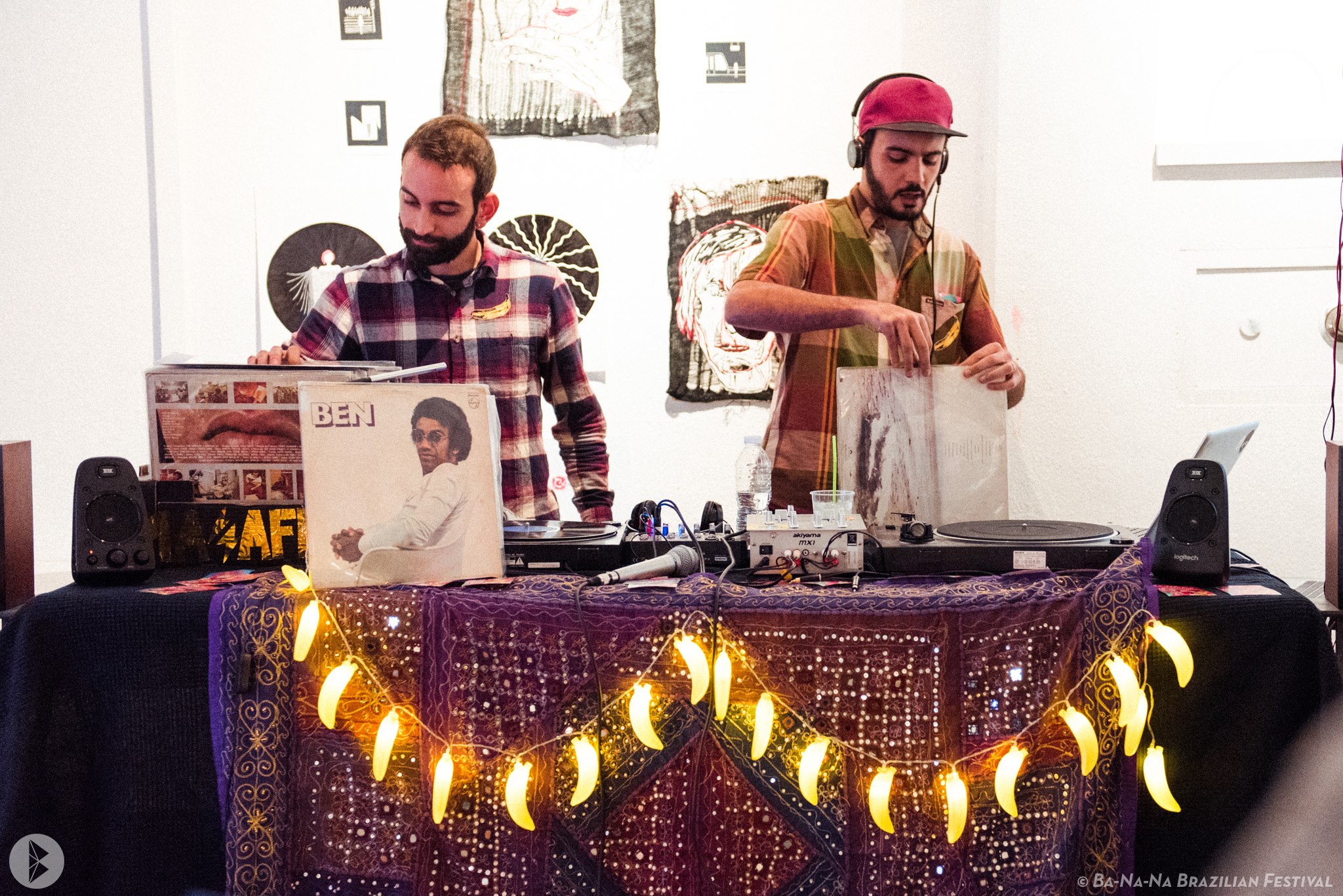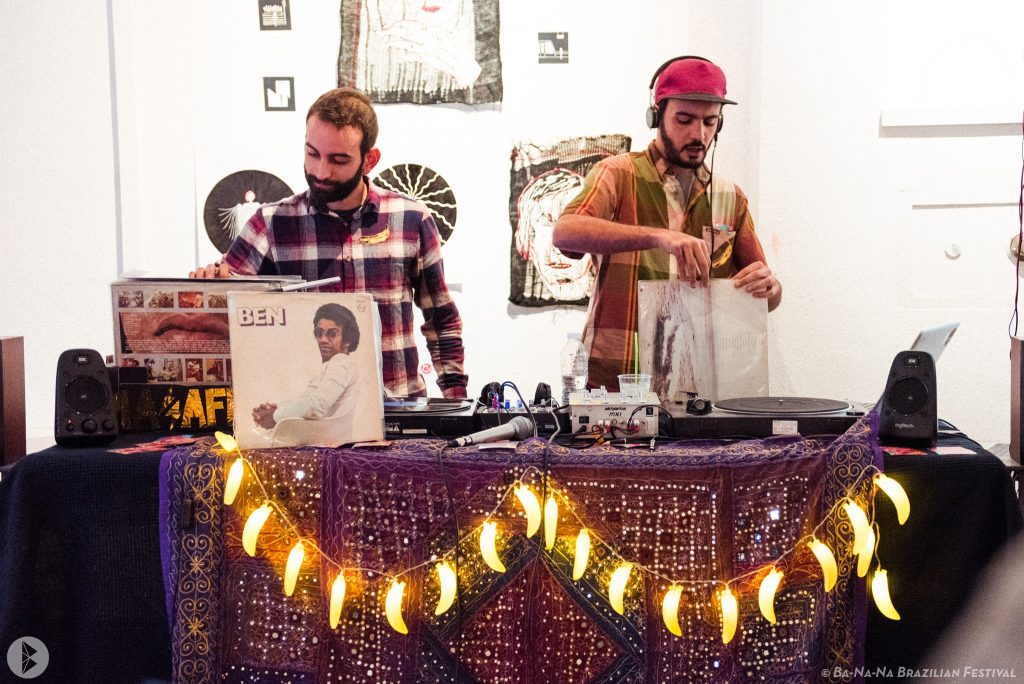 Victor Guerra takes to the decks to get the party started, and the Massafera Sound System crew keep up the pace throughout the weekend. Most of the sessions were by DJs spinning Brazilian vinyl," Victor later fills us in. "Jorge Ben, Tim Maja, Roberto Carlos, Criolo…"  Were they any good? Let's just say that the music topped the event highlights in a retrospective facebook poll.
And of course, no Brazilian festival could be complete without a well-stocked bar. My visiting London friends were startled and rather delighted by their capirinhas. "They just free-poured cachaça liquor over some ice and added a splash of lemon and sugar. A couple more of these and I'm buying all the art here. Um, we'd better go soon."
Photography by Betina dalla Rosa
"That's the very reason why love is eternal,' concluded João Fulgêncio, 'because it is forever renewed. Passions die, love remains." Jorge Amado