Kate Curtis's new bilingual book tells a simple and powerful story with full page colour illustrations. The second edition is currently being crowdfunded – so pre-order your copy now! 🙂  El Rey y el Arbol/ The King and the Tree invites readers to see the world through different eyes and recognise our connection with the natural world. Kate joins us to share some insights along her journey.

Where are you from and where have you been?
I grew up in Cape Town, South Africa, and was very privileged to spend a lot of time outdoors in our little family garden, climbing mountains, hiking in forests, canoeing down rivers and other adventures with my father.
My mother is an artist and always encouraged creativity, drawing, painting, gardening and this sparked my vivid imagination. She always allowed me to believe in fairies!  I also grew up with many beautiful children's books- which I loved to spend time reading alone.  I always had a love of books, poetry, words and writing.
At 18 I left SA to travel and work abroad. I returned briefly to study 3D computer animation. I've had a variety of jobs in my life and lived in many different places. From waitress, nanny, art-department in the film industry, English teacher, art teacher, yoga teacher, home-schooling group teacher, to facilitator of Permaculture and Deep Ecology workshops for adults. My passion lies with people and the process of learning – I enjoy working with groups, families and children.
I spent many years traveling to India each summer, where I was fortunate to discover Buddhist meditation and philosophy. Meditation felt like coming home and it opened the floodgates of creativity. This is where most of the illustrations for the book were done.
Currently I am living in a little cottage, in the province of Girona, Cataluña.  I teach English and facilitate Permaculture and Nature Connection workshops. It is my aim to live simply- which is turning out to be more difficult than I imagined, as I see so many areas where society could be benefitted.
I love sitting under big trees, watching the clouds form over mountains, swimming in rock pools and dancing with friends.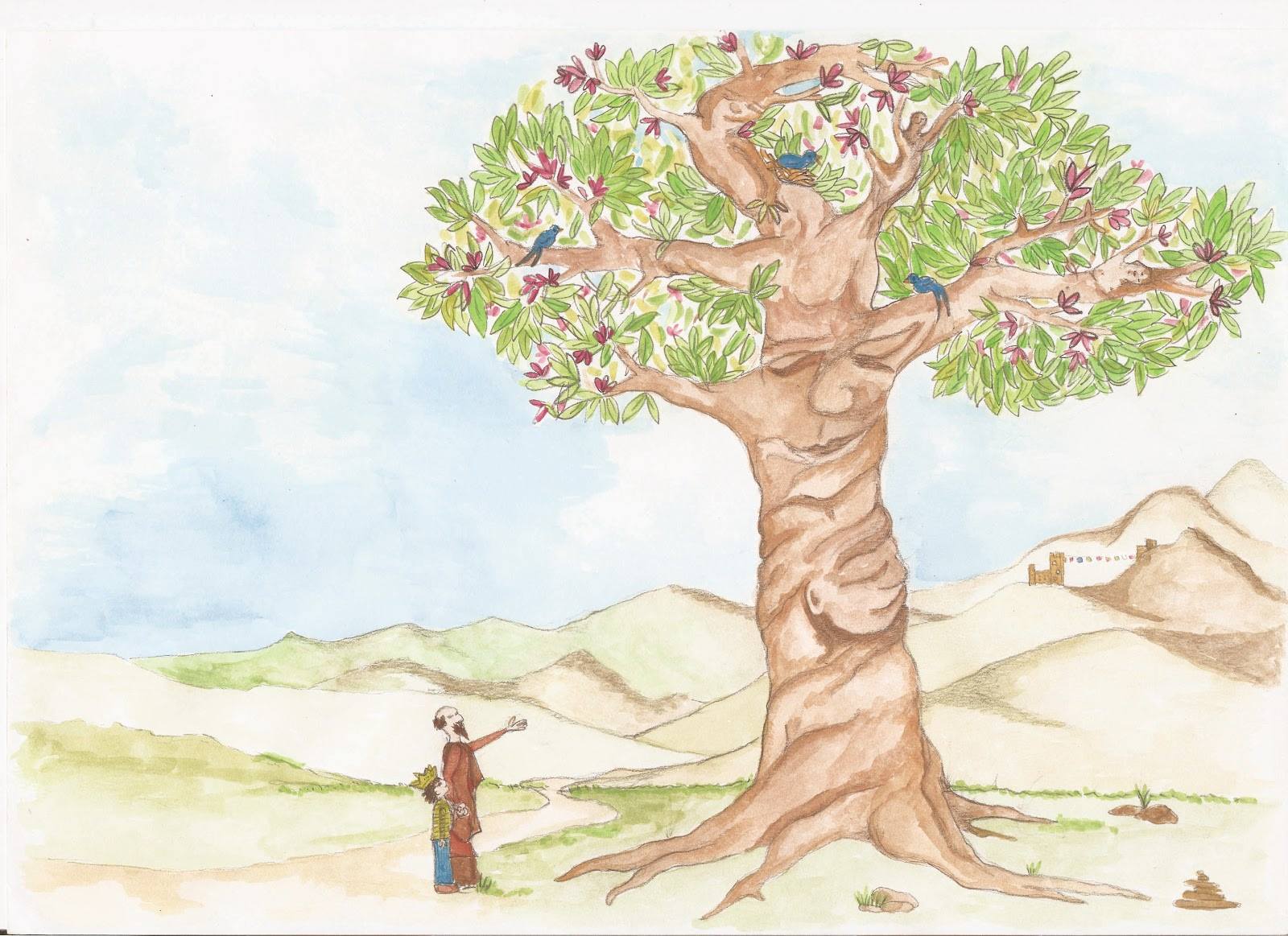 How did you come across the story which is told in the book?
The book is dedicated to a dear friend of mine. We share a connection to Buddhism and one day, he told me that he had heard a story about a king and a tree, and said he thought I should make the story into a book for children- so I did! The theme of trees, nature and interconnection has always been something I feel is so inspired by, and I see how easily children understand and accept it.
With all the ideas and possibilities that surely cross your mind every day, what impulsed you to take action on this one and make it happen?
I believe that the right seed landed in the right place at the right time. I was very blessed to have the free time that occurs when travelling in India in order to do the illustrations. I was also moved by something deeper, the desire to share the love I feel for wild nature and the sense of Mother Gaia.
It was also encouraged and motivated by friends and people who I met along the way.
How did the creative process of preparing the illustrations evolve during the two years you were working on this?
Usually my greatest inspiration came when I was travelling, the illustrations happened in bursts. I like to begin and finish a drawing in one sitting. It's often hard for me to return to something that is unfinished. Then, once I start the colouring process, I also like to finish with the same light, water and mood that I began with. So I would sometimes find myself sitting on a rooftop café in India for breakfast, beginning a drawing, and five hours later the waiter would ask me if I'd like to order lunch!
Sometimes the drawing attracted a lot of attention from locals, who would come and check in every now and then to see how the picture was developing.
Then sometimes, I wouldn't draw for weeks, but the idea or vision would be germinating in my mind…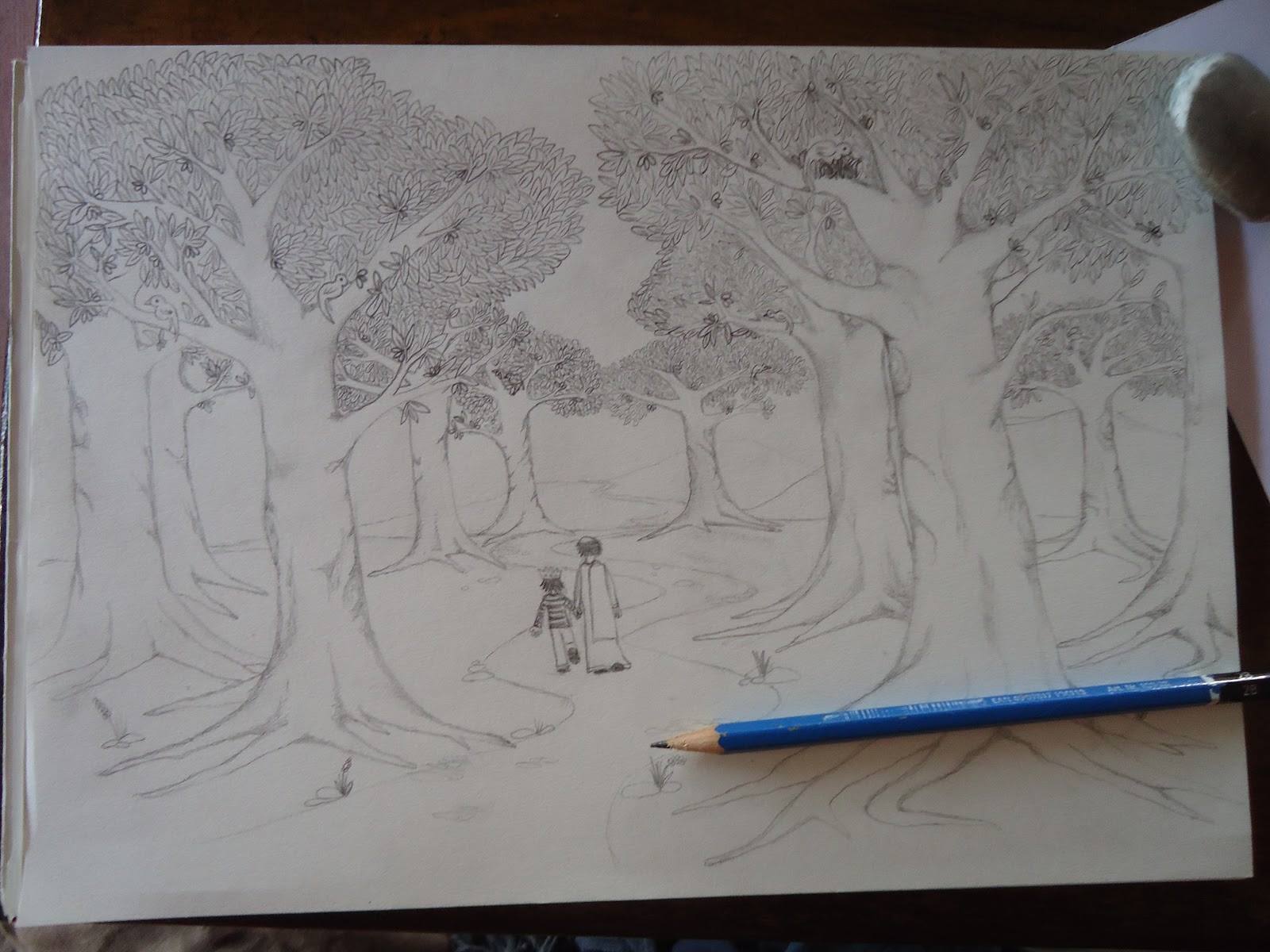 Did you have any personal rituals that accompanied the drawing process, such as meditation or a way of connecting more deeply with the trees you were drawing?
I don't know if you would call it a ritual, but I do have my favourite brush and I like to prepare the space and have a sharp clean pencil, clean water, etc. The light is very important- I prefer sunlight and mornings. So, in some way I look for places that call me and then create the setting. There is always a moment breathing before- looking at the white page and facing the fear of not being able to portray the ideas as I would like them to be… Then I just start. Sometimes I have a very clear idea of what I would like to draw, other times, there is flow and I allow the picture to come through more playfully.
Did you ever have the embodied feeling that the trees were telling you their story rather than you telling theirs, if so how did you experience this? 
Definitely.  There were times when I felt so connected to trees that it was like meeting new friends.  As I began to focus on details and textures, shapes and forms of branches, leaves and colours, I became increasingly aware of the subtle energies and connection that I shared with them. I also felt a sense of deep gratitude and support. By sitting in silence and creating space in my mind, it felt as though I was able to hear the stories and see the greater meanings in the patterns of nature. It's quite difficult to explain this in words.
Can you share any especially impactful teachings that you have received directly from nature?
There are many moments, but I would like to share this one:  It's a long story, but I was once visiting a nature reserve in the north of Thailand with four dear friends and lovers of nature. We couldn't find a path, so we decided to follow a dry river bed. We ran, jumped, skipped and hopped over the river stones for hours. Following the river we meandered through the forest, passing huge strangler figs, bamboo groves and climbing down dry waterfalls, until we came to a place where the water was still flowing. There we stood and listened to the bubbling of the water as it splashed into small pools. We all started to giggle and at that moment, we knew that the river was laughing with us, she had missed us and was welcoming us home.
I realised that humans are a beautiful part of nature, we are welcome and we are missed. The forest, empty of human babies giggling, voices singing, drumbeats and people chattering, is incomplete.  The river wants to feel our feet splashing and children jumping and playing along her banks. When we interact with the forest, the forest interacts with us, and we can know ourselves better through nurturing this connection.
Everything in nature is working for love. Everything in nature wants to be in balance and harmony.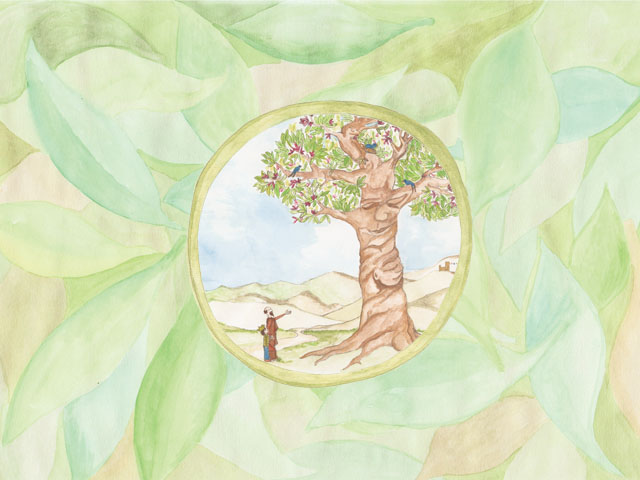 Having worked as an eco-educator with children, have you noticed any differences between their relationship with nature and the typical, more distanced relationship, of adults?
I think the only difference I observe in general is in the power of the influence of fear. I have encountered fearless adults who are deeply connected to their environments, and I have met children who were already conditioned to be afraid of "dirt" and worms. It's difficult to generalize.  I do love the natural tendency of children to be playful and curious! Often this makes it easier for them to be courageous, to step into an unknown. I also believe it is our nature, as communal species, to look for connections and friendships through empathy. Sometimes children are more able to embody other animals and plants by imagining them as new friends!
What was your experience in seeking a publisher for the first edition of The King and the Tree?
It was challenging and eye-opening. I have not been able to find a publisher willing to publish the book- usually their response is that it doesn't fit their target market. The business of publishing is very competitive and dominated by a few large companies who hold most of the power. To be economically successful a book needs to sell thousands of copies. Small editorials are not able to take risks with books that are "alternative" or unusual.
What were the responses you receive from this book that most touched you deeply?
There have been many, and I love hearing that children ask to read the book at bedtime. But one of my favourite moments was when I listened to the caretaker of a farm where I lived in India, "reading" my book in Tamil to the amas who worked in the kitchen. He cannot read English, but explained the story from beginning to end, based on the illustrations alone. The amas were nodding and agreeing, whilst fully immersed in the animated storytelling of Ellhumalai.
Why did you choose a crowd-funded self-publishing path for the second edition?
Crowdfunding has been a very rewarding process for me in that it is a direct interaction between readers and creator.  I love the involvement and personal contact with each contributor, as well as the possibility to follow-up and receive feedback once people receive their book.  It cuts out the need for large publishing companies. To me, crowdfunding is a way of reclaiming creativity, empowering small projects through community, and gives "alternative"  projects a possibility to find their audience.
What other projects are you currently working on?
I am currently germinating the first draft of the second book for children, it will be about bees and their magical, vital and fragile role in nature!  I am also writing a novel for older children- it's about a Great Turning and full of natural magic, real heroes and challenges!
How can people find out more about your work?
The King and The Tree/El Rey y el Arbol has a blog and a facebook page.  The children's novel and Bee Book, is still a work in progress
"The same stream of life that runs through my veins night and day runs through the world." Tagore